For those who are planning to travel to exciting destinations in Europe and America, look no further.
In the latest promotion, British Airways let you experience two amazing cities on your vacation for a great price.
Make full use of your holidays by exploring the city of London, as well as the cultural rich European cities or the vibrant and eclectic New York.
Check out their all-inclusive return fares for two cities.
Travel date: 15 July 2015 to 16 March 2016
| Destinations | Economy Class Fares from | Premium Economy Class Fares from |
| --- | --- | --- |
| Sydney | S$636 | S$1215 |
| London | S$1338 | S$2415 |
| New York | S$1649 | S$2815 |
| London & Barcelona | S$1291 | S$2226 |
| London & Rome | S$1381 | S$2317 |
| London & Amsterdam | S$1377 | S$2313 |
| London & Paris | S$1389 | S$2325 |
| London & Frankfurt | S$1452 | S$2387 |
| London & Edinburgh | S$1510 | S$2595 |
| London & New York | S$1817 | S$3138 |
| London & Boston | S$1817 | S$3138 |
Make your booking here. (For travelling to two cities, make sure you use their MultiCity search engine)
The special price for two cities is attractive when travelling to London would have already cost you $1338. Add another city, say Barcelona, to your itinerary and you'd be surprised it is cheaper than just travelling to London alone.
Too good to be true? Let's check it out:
SIN – LON
Period of travel: 6 Nov 2015 – 15 Nov 2015

It costs S$1,299.80 for an economy class fares.
SIN – LON – BCN – LON – SIN
Period of travel: 6 Nov 2015 – 15 Nov 2015 (Same as above, and travelling to Barcelona on 11 Nov 2015)

It works out to be S$1,254.70, which is cheaper than just travelling to London alone.
The special price is indeed value for money, even for other destinations.
Check out the full ad below: (click to enlarge)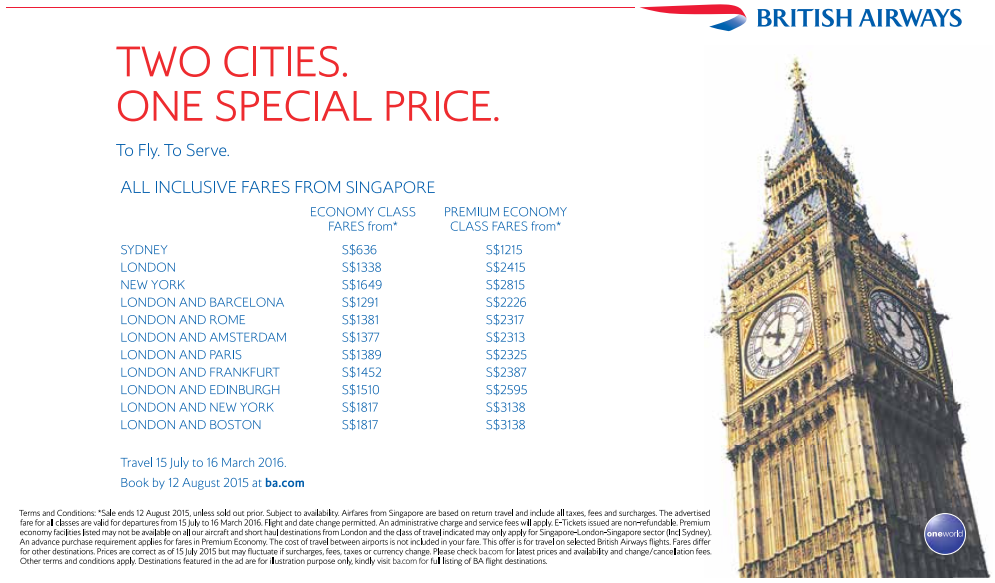 Terms & Conditions
* Sale ends 12 August 2015, unless sold out prior. Subject to availability. Airfares from Singapore are based on return travel and include all taxes, fees and surcharges. The advertised fare for all classes are valid for departures from 15 July to 16 March 2016. Flight and date change permitted. An administrative charge and service fees will apply. E-Tickets issued are non-refundable. Premium economy facilities listed may not be available on all our aircraft and short haul destinations from London and the class of travel indicated may only apply for Singapore-London-Singapore sector (incl. Sydney). An advance purchase requirement applies for all fares in Premium Economy. The cost of travel between airports is not included in your fare. The offer is valid for travel on selected British Airways flights. Fares differ for other destinations. Prices are correct of 15 July 2015, but may fluctuate if surcharges, fees, taxes or currency changes. Please check ba.com for latest prices and availability and charge/cancellation fees. Other terms and conditions apply. Destinations featured in the ad are for illustration purposes only. Kindly visit ba.com for full listing of BA flight destinations.
Need a hotel? Use our hotels search engine to suss out the best hotel deals from thousands of travel sites.