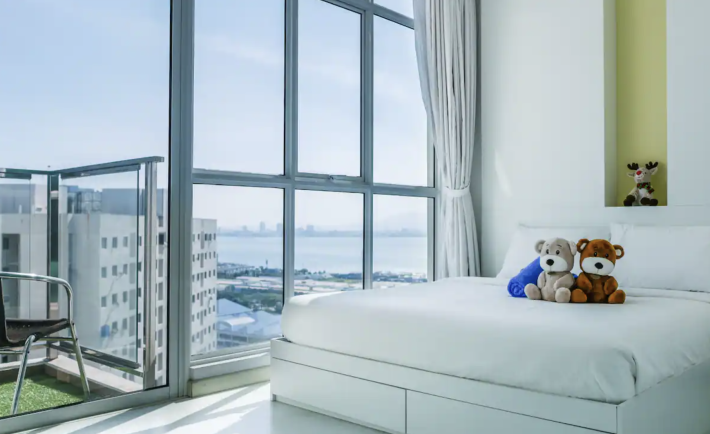 Welcome again to another episode of our 'Travel Thursday' series.
I'm taking a break from next week so this 'Travel Thursday' series will likely resume in 2024.
TMI, but just so you know.
Anyway, got a flight booked for Penang soon?
If you're looking to spend your time in Penang relaxing in comfort with superb views, here are 3 affordable accommodation options I have for you this week.
Price: $41/night (for 4 persons)
Take in the cityscape of George Town from the comfort of this one-bedroom serviced apartment. 
Situated in the neighborhood of Jelutong, you will be steps away from shops, restaurants, and a 24-hour convenience mart.
The comfortably furnished space features a well-equipped kitchen, a spacious bedroom with a queen bed, and a living room with a sofa bed—perfect for a small family or group of up to four guests. But the true star is the view of the city skyline from your bedroom.
After a day of exploring George Town's attractions, retreat to your oasis high above the hustle and bustle. Park your vehicle in the free residential carpark and relax, secure in the knowledge that you have an urban vacation sanctuary to call home away from home.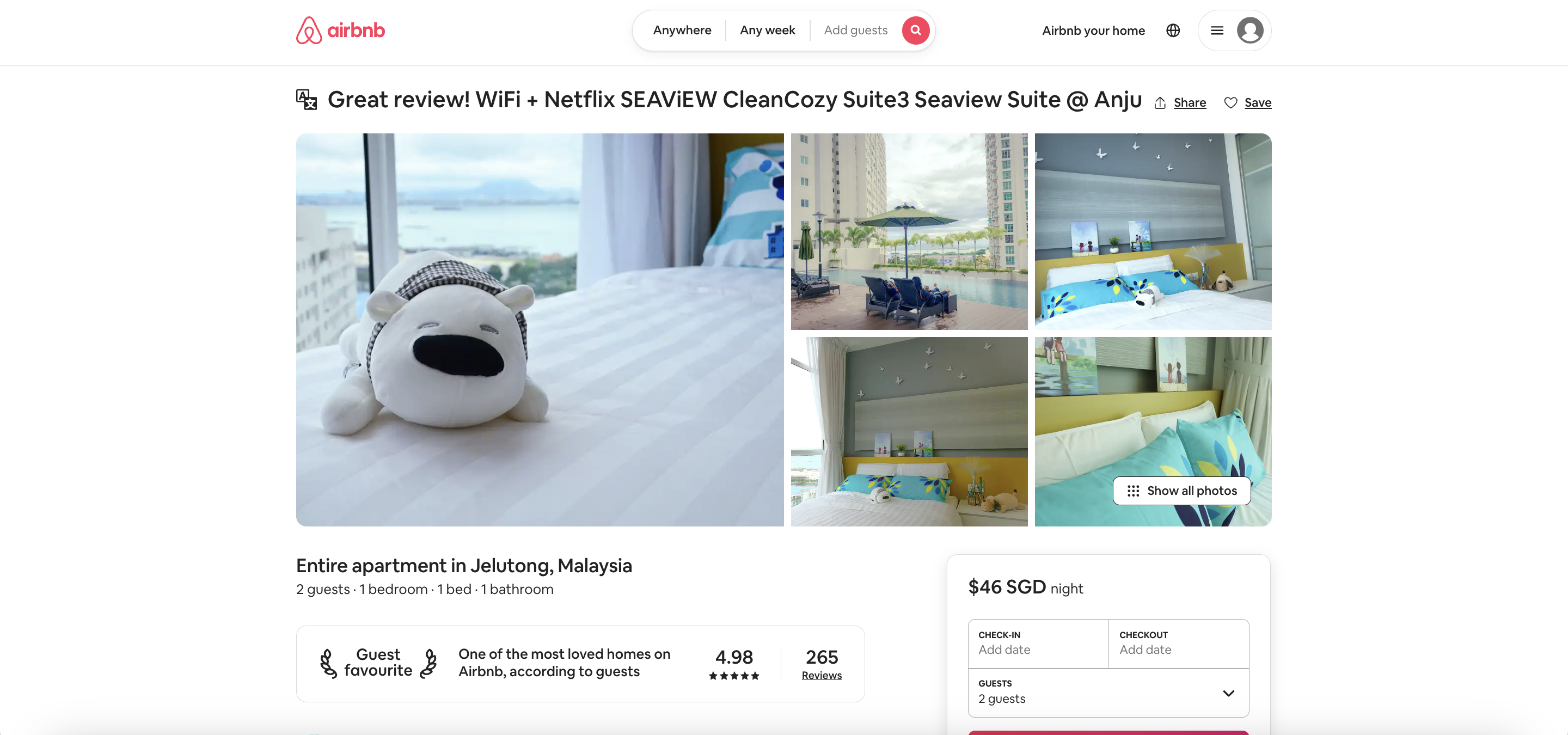 Price: $46/night (for 2 persons)
Live like a local in this stylish Straits Garden Suite apartment. Nestled just kilometers from the city center yet offering partial sea views, this modern one-bedroom retreat provides everything you need for a relaxing stay.
Wake up to sunlight filtering through blackout curtains in the queen-sized bed before making coffee in the full kitchen equipped with an electric stove, microwave, fridge, and all the essential cookware and dinnerware. Unwind with a movie on the smart TV or catch up on laundry using the in-unit washer and dryer. When you're ready for a change of scenery, stroll over to the shared gym and swimming pool right on-site.
With over 260 glowing reviews and a 4.8-star rating, this apartment suite offers a home rental in a prime location just steps from the area's best pasar malam and shopping.
Price: $59/night (for 4 persons)
Soak up the city and sea views from this light-filled apartment with a white-washed design.
The chic 1-bedroom suite features a spacious balcony attached to the master bedroom where you can lounge with a cuppa and book in hand. The double and single beds in the bedroom provide ample space while the sofa bed in the living room offers flexibility for up to 4 guests. 
Smart conveniences like a flat-screen TV with gaming options and high-speed Wi-Fi keep you connected. Floor-to-ceiling windows fill the space with natural light while modern and stylish accents give the unit a refreshed feel. Beyond the apartment, the shared condo facilities provide added value for your stay.
Wonderful for short or extended visits alike, this rental allows you to enjoy all the city has to offer from the comfort of a clean and comfortable home base.
And that's all for this post. Hope the abovementioned will help give you some accommodation options to consider during your upcoming Malaysia trip! I'm sure you will have a lovely time with your friends and loved ones in Penang. Have an awesome trip to end 2023 on a good note! ✈️