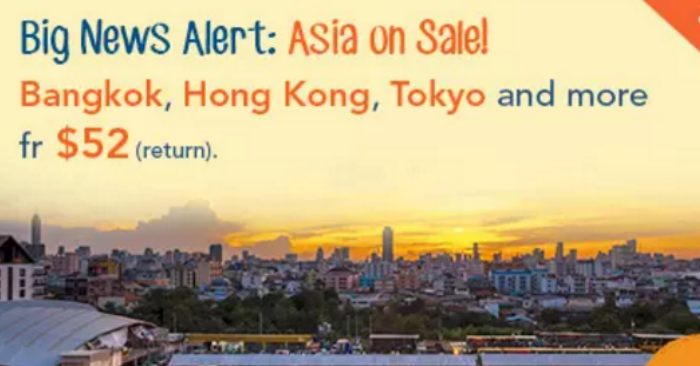 Can't stop travelling? Neither can we.
All Asia cities are on sale at ZUJI for the next 72 hours.
Book your tickets from 4 – 6 Apr and enjoy exclusive fares to Asia cities.
Fly to popular destinations such as Kuala Lumpur, Bali, Bangkok, Hong Kong, Seoul, Tokyo, Shanghai and Manila.
1. Kuala Lumpur
 Kuala Lumpur Flights
Fr S$52 (return) ►
2. Bali
 Bali Flights
Fr S$157 (return) ►
3. Bangkok
 Bangkok Flights
Fr S$104 (return) ►
4. Hong Kong
 Hong Kong Flights
Fr S$180 (return) ►
5. Seoul
 Seoul Flights
Fr S$326 (return) ►
6. Tokyo
 Tokyo Flights
Fr S$394 (return) ►
7. Shanghai
 Shanghai Flights
Fr S$321 (return) ►
8. Manila
 Manila Flights
Fr S$199 (return) ►
In addition, from 3 – 30 Apr, Mastercard cardholders enjoy up to $100 rebate for flight/packages and 12% off their hotel booking with the promo code: "CANNOTSTOP".  On top of that, for bookings made during this period, you enjoy free travel insurance (up to $25 per booking) when you complete your booking with Mastercard.
Stack up your discount and take another $50 rebate when you store your Mastercard details on ZUJI's payment page.
Sign up for a Citi Credit Card via ZUJI and get $70 ZUJI voucher.