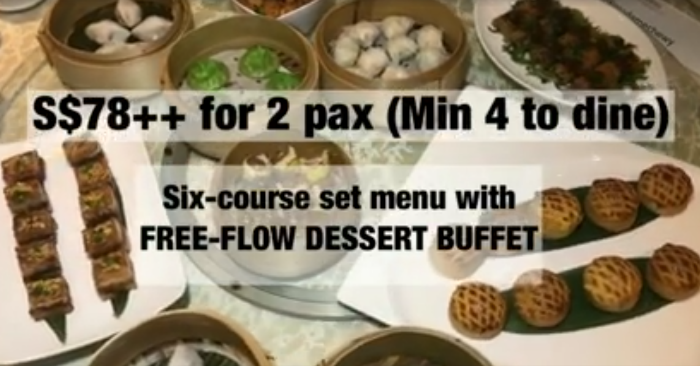 Si Chuan Dou Hua at PARKROYAL on Kitchener Road presents the 6-Course Set Menu, at SGD68 per person, available daily from 13 February 2017 to 30 April 2017 for both lunch and dinner.
Executive Cantonese Chef Leung Wing Chung (梁永祥) has curated a six-course menu that features ingeniously complementing dishes such as the "Art of Dim Sum", consisting of popular dim sum dishes like Siew Mai with Abalone (鲍鱼烧卖)and Truffle Xiao Long Bao (松露小笼包). The "Combination of Four Delicacies" features Si Chuan Dou Hua's signature sliced suckling pig (乳猪件), Chilled Chicken in Spicy Bean Paste (口水鸡) just to name a few.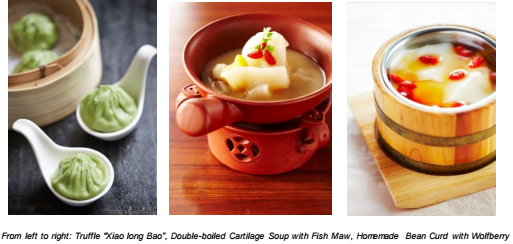 Chef Leung's ambrosial Double-boiled Cartilage Soup with Fish Maw (宝鼎花胶鲨鱼软骨汤) packs lots of flavours from the seven to eight hours of work over constant fire. This wholesome soup is both tasty and nourishing.
For the Chinese, a fish dish is essential on the menu and Chef Leung has selected the Korean Turbot for this set menu. Turbot is well liked and known as a luxurious choice of fish. To highlight the delicate flavour and bright-white flesh, the "Hong Kong" Steamed Sliced Turbot Fish in Soy Sauce" (港式蒸多宝鱼扒) delivers the freshness of the dish at its best with white and firm flakes.
The Signature Bean Curd Medley (招牌豆中之重) is as mighty as the name sounds. This dish is the perfect combination of the various forms of bean curd – bean curd (豆腐), bean curd skin (豆腐 皮) and yellow soy beans (黄豆粒) are fried until golden brown, placed atop a bed of homemade bean curd (豆花) along with vegetables and minced meat.
One key highlight of the set menu will be the inaugural appearance of Chef Leung's new creation, Fish Paste "Mee Sua" Soup in "Shun De" Style (顺德生财鱼滑米线汤). This dish is presented in Gueridon Service where guests can witness the generous serving of fish paste made with Mud Carp, Pearl Garoupa and black moss, cooked to perfection in flavourful fish broth boiled for several hours with soy bean – complete with sakura prawn and thin salted noodles.
The Dessert Fantasy is a refreshing way to end the scrumptious meal in an oriental setting. Take a short walk to the dessert counter and guests can enjoy a series of sweet treats to their hearts content. Served in a free-flow buffet style, that means unlimited serving of Si Chuan Dou Hua's Homemade Bean Curd with Wolfberry (枸杞甜豆花).
Free-flow unlimited serving of desserts:

From 13 February 2017 to 30 April 2017 for lunch and dinner, enjoy a special offer at SGD78 for two (02), with a minimum four (04) persons. Gather your loved ones for a deluxe dining experience at Si Chuan Dou Hua sans burning a hole in your pocket.
For promotional details, please visit PARKROYAL on Kitchener Road's dining offers.
For dining enquiries and reservations, please call Si Chuan Dou Hua Restaurant at:
PARKROYAL on Kitchener Road +65 6428 3170
181 Kitchener Road Singapore 208533