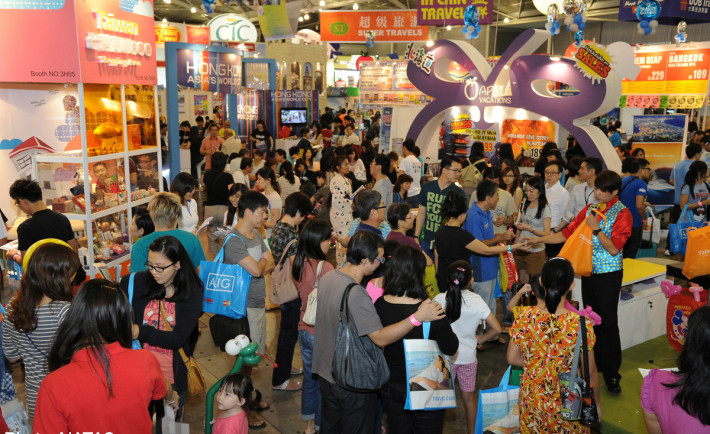 Planning for a getaway? Then head over to NATAS Travel Fair from 6 – 8 March 2015 located at Singapore Expo, Hall 8 from 10am to 9.30pm.
From travel deals to freebies, have your trips taken care of by the various travel agents.
Other exciting events that are also lined up are the "Taste the World" International Food Trail where you can tuck into food like kebabs, ramen, sushi and many more. There is also a Mongolian Culture Showcase where you can get up close to the Mongolian's dwelling and see a Ger or Yurt. Make sure you snap a picture with the Mongolian lady dressed up in their attire.
In addition, there are many stage performances held during the 3 days event where you can watch the Uzbekistan Folk Band, Maori kapahaka performance, Art of Face Mask Changing and more.
Visitors can also take part in lucky draw where you the top winner can win back the cost of your holiday up to $8,888. Attractive prizes can be won in the daily draw.
Take part in the Selfie/Wefie contest and the Drawing Competition to win more prizes.
Don't forget to take your goodie bags and free parking coupon if you are the first 50 visitors!
Admission is free.
For more info: http://natastravelfair.travel/
Check out the complete list of exhibitors for the event:
| Category | Company | Booth | Hall Number |
| --- | --- | --- | --- |
| Airlines | EVA Air | 8H45A | 8 |
| Banks | ANZ | 8H46 | 8 |
| Banks | Citibank | 8H42 | 8 |
| Banks | Maybank | 8H43 | 8 |
| Banks | United Overseas Bank Ltd | 8H47 | 8 |
| Car Rental | AVIS Car Rental | 8H13 | 8 |
| Car Rental | Budget Rent A Car | 8H08 | 8 |
| Cruises | Citystate Cruises | 8H01 | 8 |
| Cruises | Costa Cruises | 8H31 | 8 |
| Cruises | Port Porters by Stamford Travel | 8H18 | 8 |
| Cruises | Princess Cruises | 8H34 | 8 |
| Cruises | Royal Caribbean Cruises Asia Pte Ltd | 8H24 | 8 |
| Cruises | Stamford Discovery Cruise Center | 8H18 | 8 |
| Cruises | Star Cruises | 8H16 | 8 |
| Food & Beverages | Hungary | 8H41F | 8 |
| Food & Beverages | IPPIN | 8H48H | 8 |
| Food & Beverages | Japanese Drinks Company – Japanese International Beverages | 8H48M | 8 |
| Food & Beverages | Legendary Hong Kong | 8H48U | 8 |
| Food & Beverages | Marumo Mori Green Tea Shizuoka Prefecture Japan | 8H48N | 8 |
| Food & Beverages | SAMURICE | 8H48D | 8 |
| Food & Beverages | SNAFFLES | 8H48E | 8 |
| Food & Beverages | Sofra Turkish Cafe Restaurant | 8H48S | 8 |
| Food & Beverages | SunnyHills | 8H48P | 8 |
| Food & Beverages | Takumen | 8H48F | 8 |
| Food & Beverages | Taste of Korea | 8H48A | 8 |
| Food & Beverages | Thailand | 8H48T | 8 |
| Food & Beverages | The Alaska Guys | 8H48V | 8 |
| Food & Beverages | The Wine Palate | 8H48Q | 8 |
| Food & Beverages | Wattention | 8H48C | 8 |
| Hotels & Resorts | AYANA Resort and Spa Bali and RIMBA Jimbaran Bali by AYANA | 8H04 | 8 |
| Hotels & Resorts | Berjaya Hotels Resorts | 8H11 | 8 |
| Hotels & Resorts | Hotel Puri Melaka | 8H12 | 8 |
| Hotels & Resorts | Jayakarta Hotels Resorts | 8H10 | 8 |
| Hotels & Resorts | RHR Hospitality Sdn Bhd | 8H38C | 8 |
| Hotels & Resorts | Signature Group of Hotels | 8H05 | 8 |
| Hotels & Resorts | Swiss-Garden International | 8H57A | 8 |
| Hotels & Resorts | Weil Hotel Ipoh | 8H41F | 8 |
| National Tourism Organizations | China National Tourist Office in Singapore | 8H48 | 8 |
| National Tourism Organizations | Incredible India | 8H35 | 8 |
| National Tourism Organizations | Japan National Tourism Organization | 8H50 | 8 |
| National Tourism Organizations | Johor Tourism Department | 8H51 | 8 |
| National Tourism Organizations | Korea Tourism Organization | 8H37 | 8 |
| National Tourism Organizations | New Taipei City Tourism Travel Department | 8H45A | 8 |
| National Tourism Organizations | Sri Lanka | 8H53 | 8 |
| National Tourism Organizations | Taiwan Visitors Association | 8H58 | 8 |
| National Tourism Organizations | Tourism Authority of Thailand | 8H25 | 8 |
| National Tourism Organizations | Tourism New Zealand | 8H20 | 8 |
| National Tourism Organizations | Wonderful Indonesia | 8H32 | 8 |
| Official Card | MasterCard Worldwide | | |
| Official Travel Insurer | Travel Guard by AIG | 8H27 | 8 |
| Others | Rotary Club of Singapore | 8H38B | 8 |
| Others | Tourism Management Insitute of Singapore | 8H41E | 8 |
| Partners & Sponsors | Etihad Airways | 8H03 | 8 |
| Partners & Sponsors | Garuda Indonesia | 8H54 | 8 |
| Partners & Sponsors | Lufthansa German Airlines | 8H38C | 8 |
| Partners & Sponsors | MediaCorp Pte Ltd | 8H38 | 8 |
| Partners & Sponsors | Singapore Airlines Limited | 8H28 | 8 |
| Partners & Sponsors | Turkish Airlines | 8H57 | 8 |
| Tour Operators | Insight Vacations | 8H21 | 8 |
| Tour Operators | Trafalgar | 8H17 | 8 |
| Travel Agents | ASA Holidays Air One Aviation | 8H59 | 8 |
| Travel Agents | Asia-Euro Holidays Pte Ltd | 8H23 | 8 |
| Travel Agents | ATG Tours Pte Ltd | 8H49A | 8 |
| Travel Agents | Changi Recommends | 8H52 | 8 |
| Travel Agents | Citystate Bibleland Tours | 8H02 | 8 |
| Travel Agents | Club Med Customer Support Centre by Maple3 Vacations | 8H41G | 8 |
| Travel Agents | Diners World Travel | 8H30 | 8 |
| Travel Agents | Ergo Travel | 8H07 | 8 |
| Travel Agents | Famous World Tours | 8H19 | 8 |
| Travel Agents | Green Island Tours S Pte Ltd | 8H09 | 8 |
| Travel Agents | JBC Global Pte Ltd | 8H49 | 8 |
| Travel Agents | Jetabout Holidays | 8H22 | 8 |
| Travel Agents | Lumba Lumba Tours Travel Pte Ltd | 8H57 | 8 |
| Travel Agents | Panorama Tours | 8H26 | 8 |
| Travel Agents | PriceBreaker | 8H29 | 8 |
| Travel Agents | S Travel Pte Ltd | 8H55 | 8 |
| Travel Agents | Scenic Travel | 8H33 | 8 |
| Travel Agents | Shahidah Travel Tours | 8H06 | 8 |
| Travel Agents | Universal Travel | 8H14 | 8 |
| Travel Agents | UOB Travel | 8H15 | 8 |
| Travel Related | Escape Magazine | 8H38A | 8 |
| Travel Related | Flexiroam | 8H45 | 8 |
| Travel Related | Photobook Express | 8H40 | 8 |
| Travel Related | Winter Time | 8H39 | 8 |