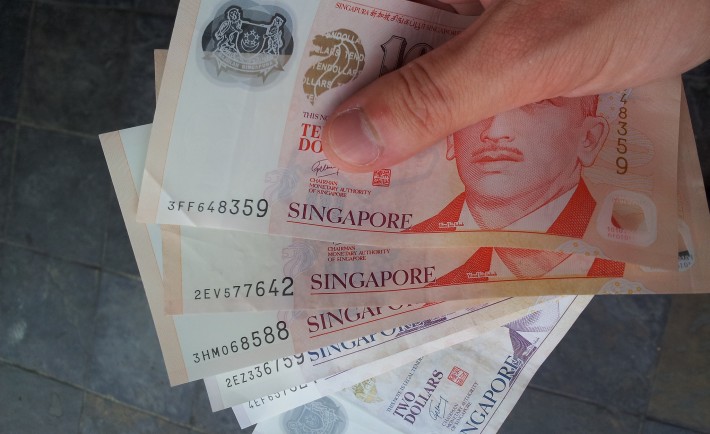 Image Credits: Aleksandr Zykov via Flickr (CC Attribution-ShareAlike 2.0 Generic)
Several security features in the currency notes act as shields to minimize the risk of counterfeiting. It is important for every Singaporean to know more about these security features to be able to spot between real and fake notes.
Start familiarizing yourself with these 6 ways:
1. OBSERVE THE PORTRAIT
Late Encik Yusof bin Ishak's portrait takes up the front of the notes. As it is hand-engraved and printed in intaglio ink, it serves as an anti-counterfeiting feature that is hard to imitate. Look for this feature because the fine lines of the engraving are difficult to reproduce.
2. USE A MAGNIFYING GLASS
Upon looking at the note through a magnifying glass, you shall notice the text "BOARD OF COMMISSIONERS OF CURRENCY SINGAPORE" or "MONETARY AUTHORITY OF SINGAPORE" printed in micro-letters above the word SINGAPORE on the front side. To the naked eye, this line appears in a singular line but the intricate details are clearly seen with the help of a magnifying glass.
3. LOOK FOR THE BRAILLE CODE
To know if it is genuine, look at the note's unique Braille code. Each note has a Braille code at the top right corner of the front side of the note. It is printed in heavy intaglio ink so that visually handicapped individuals can easily recognize each denominations by touch.
4. USE A UV LIGHT
If you place a genuine note under the UV light, you will see that its denomination numeral, its seal, and its serial number will glow on the front. While on paper notes, fluorescent fibers will glow if the note is genuine.
5. INSPECT THE LION
If the note is genuine, the Singapore Lion symbol on the front shall register perfectly with the image on the back. It is because the front symbol is printed simultaneously with the back symbol. Also, it appears near the watermark.
6. FEEL THE NOTE
A genuine note has an "embossed feel" due to the intaglio printing. The use of intaglio printing on the engraved portrait, the Singapore Arms, the word SINGAPORE, and other parts offers good overall tactility. This is done so that even the tiny details are clearly defined.
Although the number of counterfeit cases is very low, you shall report its occurrence immediately to the nearest police station or to the Commercial Affairs Department (Contact: 6325 0000).