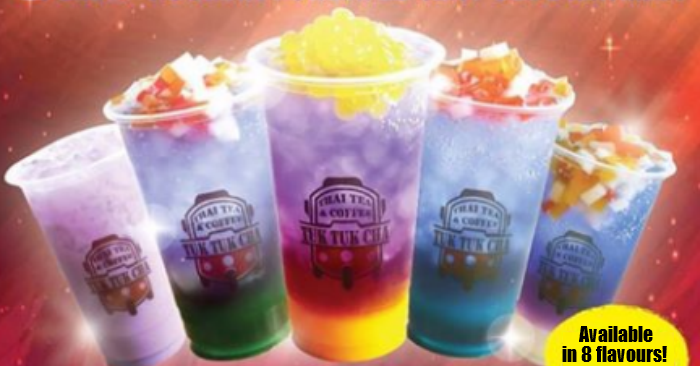 Introducing the popular butterfly pea! Freshly brewed daily, it contains many health benefits such as anti-inflammatory and pain relieving properties, anti-aging, etc.
Visit any of their stores to try the latest drink.
Available in Original, Kiwi, Green Apple, Passion Fruit, Lychee, Yogurt, Fresh Lemon and Blue Hawaiian.
Butterfly-pea flower tea is a caffeine-free herbal tea, or tisane, beverage made from a decoction or infusion of the leaves of the Clitoria ternatea plant and dried Lemongrass. The ternatea is also known as butterfly-pea, blue-pea, Aprajita, Cordofan pea or Asian pigeonwings.

Derived from a plant that is common to most South East Asian countries butterfly pea flower tea has been brewed for centuries but only recently been introduced to tea drinkers outside the indigenous area. Butterfly pea flower tea retains many of the medicinal properties of the Clitoria ternatea as well as extracting the deep blue color of the petals that has made the plant a popular dye for centuries. One of the aspects of the tea is the fact that the liquid changes color based on the pH level of the substance added to it, for instance, adding lemon juice to the tea will turn it purple.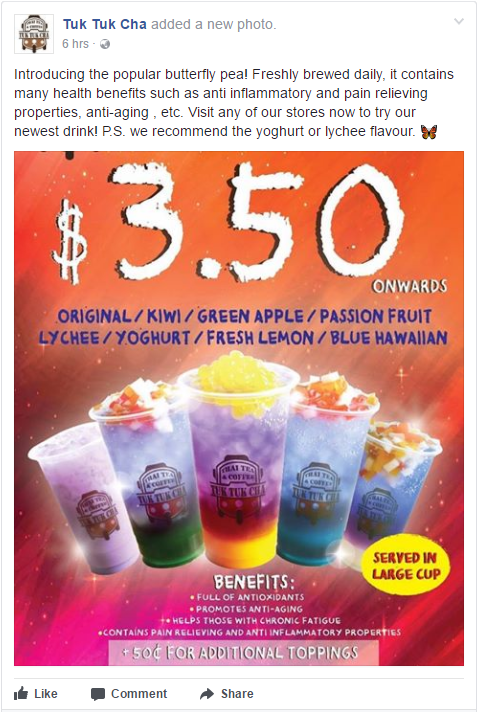 Share this news with your friends and go give the new drink a try.
Read Also: Get up to S$600 worth of vouchers (NTUC, Takashimaya, etc) when you apply for any of these credit cards!