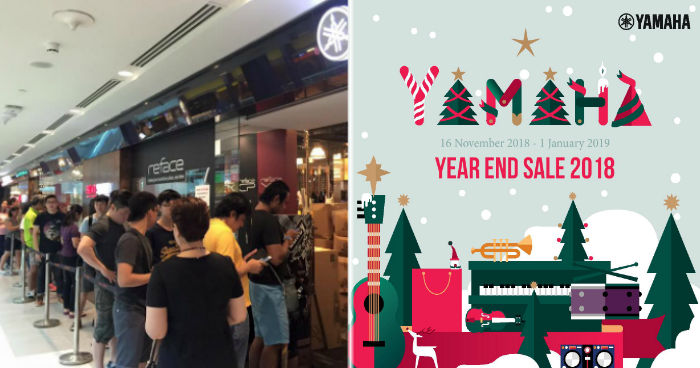 Your Christmas Holiday Shopping Spree Starts Here.
Join Yamaha Music's in their annual year-end sale as they bring you their biggest sale of the year offering the greatest discounts.. From now leading to New Year, look out for exciting offers at their stores island-wide. These fantastic deals and discounts will help you get the musical instrument you have been eyeing for at lower prices. From acoustic pianos to guitars, drums and music post production, you are simply spoil for choices.
Shop and stand a chance to walk away with attractive prizes in their Christmas Lucky Draw*. Every $500 spent from now till 1 Jan 2018, will get you a chance in their lucky dip. Pro tip: Double your chance ($500 = 2 chances) when you make your purchase from 7 – 16 December 2018.
Two round trip flight tickets to Japan on Singapore Airlines (x1)
iPhone Xs Max (64GB) (x2)
Nintendo Switch Console (x2)
$400 Luxury Voucher (x2)
Yamaha Desktop Audio System MCR-B043  (x2)
Check out some of the highlights below:
1. Acoustic Piano
$6,500 $5,500
The U1J was designed based on Yamaha's acclaimed U series upright acoustic piano line. Complementing the U series'excellent tonal characteristics with exterior refinements, it features a well-polished finish that maintains the beauty of the instrument over a lifetime.
2. Digital Piano
$2,700 $2,400
From a cabinet styled finish of an upright piano to the plethora of amazing sounds and features, you won't be disappointed with CLP-635. 'Binaural Sampling' ensures that you enjoy the highly realistic sensation of playing a concert grand piano even when you are using headphones. There are also 20 Rhythms for you to play along with as well as a full 16-track sequencer to record your performances.
3. Portable Keyboard
$540 $475
Simple, stylish, and portable piano-style keyboard. 76 keys with Graded Soft Touch.
Exquisite tone in a light, compact instrument—the Piaggero NP Series portable keyboards are an ideal combination of elegance and simplicity. Designed around the essential elements that let you concentrate on playing, NP Series keyboards focus on the inspiration and enjoyment of playing a piano, and feature the pure tone of one of the finest grand pianos that Yamaha has ever made.
4. Synthesizer
$3,999 $2,699
The CP4 STAGE is simply the best stage piano Yamaha has ever made. A selection of voices from Yamaha's Premium hand-crafted grand pianos including CFX, CFIIIS and S6, vintage EPs with VCM effects and a variety of sounds based on our flagship MOTIF synth have been matched with an 88-note wooden- key Graded Hammer action to provide the ultimate piano touch and response. The CP4 STAGE's slim, lightweight design combines portability with elegant style, and features an easy-to-understand interface with large lighted buttons for splits and layers that gives you all the controls you need right at your fingertips.
5. Guitar
$1399 $1189
Playing guitar in a great sounding room is the most inspiring, engaging playing experience imaginable – far more enjoyable than in a dry-sounding room like a lounge, office or den. Yamaha's TransAcoustic Guitar recreates the incredible experience of playing in a rich, live room without needing any external amplification or effects – just the guitar itself. Whether you're practicing, writing, recording or just playing for fun, the TransAcoustic Guitar will make you play better, longer and with more creativity. Once you've experienced it, you'll never want to play another acoustic guitar again.
6.    Drum
Launching Price $799 (Free Drum Stool worth $99) 
The DTX402 sounds combine years of experience creating authentic, top-quality drum sounds with 10 built-in drum kits, including acoustic effects and electronic sounds to help you find the perfect voice. You can easily create your own kits and choose from the various high-quality sounds. Give voice to your musical sensibilities with the expressive range of the DTX.
7.    Audio & Visual
$469 $368
Enjoy wireless playback from your smartphone, tablet or PC effortlessly with Bluetooth®  technology. In addition to the CD player, USB and FM radio, it has an AUX-in terminal for connecting a PC or Digital Audio Player, giving you music enjoyment from a variety of sources in one unit. An onboard USB port allows you to charge your smartphone or tablets too.
The MCR-B043 includes Yamaha's Music Enhancer that restores what is lost when audio data is compressed (as in a Digital Audio Player) to deliver sound that is more dynamic and has a greater feeling of expansiveness. What's more, the speakers feature an 11cm (4-1/2″) drive unit that uses a large-diameter magnet to deliver rich bass, clear mids and sparkling highs. The large-volume cabinet acts like a bass drum, further helping to produce a deep and robust bass.
8.    Band & Orchestra
Saxophone
$3,850 $3,268
Already a legend, the "62" attained the love and respect of a wide range of players for its highly reliable performance and outstanding quality. It owes its success to a group of dedicated designers with great vision, and highly skilled craftsmen performing their work with an extraordinary level of devotion, perfection, and passion.
Trumpet
$735 $618

The YTR2330 trumpet is the perfect starter instrument for students. The main focus for the design was on a light and easy to play trumpet with a great sound and perfect intonation. Yamaha design instruments with an emphasis on the ergonomics so that they offer beginners optimum support thereby greatly assisting learning, progress and creativity.
Violin
$750 $599
Möbius strip-like shape provides continuity between front and back. Three-dimensional form is designed to appeal to the audience when performing live.
The lightweight design, natural touch points and curves allow the player to effortlessly move between the YEV and a standard acoustic violin. The instrument's shape allows for most standard shoulder, chin rests and tailpieces.
9.    Music Post Production
$959 $760
Steinberg UR-RT4 provides high-speed USB 2.0 connectivity and comprises UR-RT mobile interfaces with switchable Rupert Neve Designs input transformers. A desktop production interface, an ultra-compact mobile unit and an advanced portable production studio — all engineered and crafted to meet the most exacting standards. UR series D-PRE preamp is where sound creation begins in recording, and ultimately determines the quality of your mix.
10. Yamaha Bookshop
What's more, shop from a wide range of music books and novelties at the Yamaha Bookshop. You can source from over thousands of titles on Music Theory, Guitar, Keyboards, Bass, Drums and more. Every $50 spent entitles you to a $5 Bookshop Voucher, for use on your next purchase. Members also enjoy additional 5% off Novelties at the bookshop.
View the promotional materials here:
*Lucky Draw Terms & Conditions
Minimum purchase of $500 (including GST) on a single receipt. Only purchases made from 2 November 2018 through 1 January 2019 are
eligible for the lucky draw. Delivery of the purchased goods to be complete by 6th January 2019.
One entry per transaction. Upon entry the chances of win are automatically assigned based on the amount of purchase.
Prize # 1: From Singapore to Tokyo (Narita/Haneda) / Economy Class / Travel by 1 September 2019 / Booking subject to availability of the flight
Selection of color for the prizes (if any) is not allowed.
Other terms & conditions apply. The full terms & conditions is available at http://bit.ly/YamahaYES2018