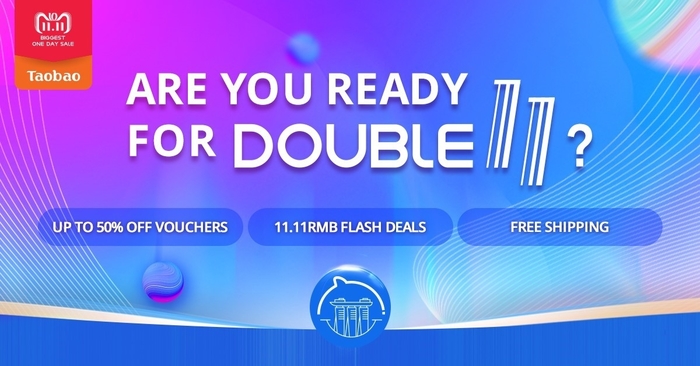 With Double 11 coming up in a few more days, Taobao, China's largest e-commerce is back for the biggest shopping festival of the year! For those who are still unclear of how big a shopping festival Taobao Double 11 can be, it is arguably, a larger shopping event than Cyber Monday or Black Friday. If Cyber Monday or Black Friday excites you, Double 11 may just excite you even more.
This year, Taobao Double 11 is once again set for amazing deals for its shoppers, and you can now take this once-a-year opportunity to checkout more items in your cart, while paying lesser than needed. Shop from Taobao's wide range of products from apparel, home and décor, beauty and automobile from both Taobao and Tmall!
To ensure that you shoppers have a whopping good time, Taobao has come up with 4 easy steps for its shoppers to guide them on how to get even more bang for your buck on Double 11! Be sure to follow these steps below and shop Taobao on PC, Taobao and Taobao Lite App!
Step 1: Grab 'Em All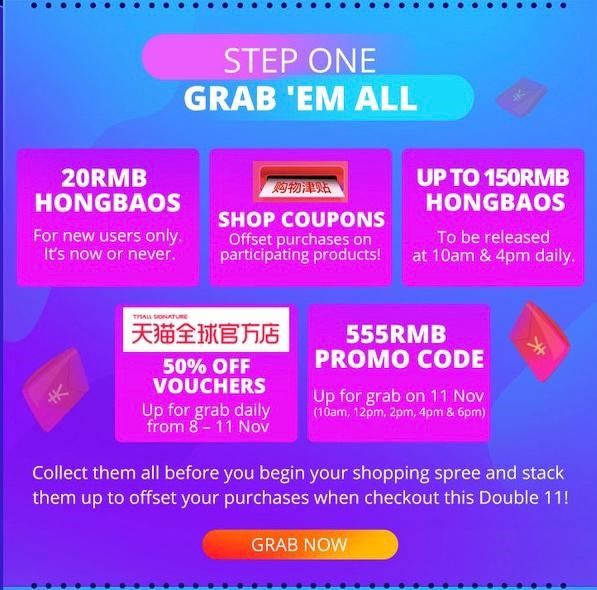 To enjoy even more savings on Double 11, from 1 – 11 November, Taobao will be giving out hongbaos of up to 150RMB at 10AM and 4PM daily, shop coupons to offset purchases on participating products and 200RMB hongbaos for new users. Besides these, there will also be 50% off Tmall Signature vouchers up for grabs from 8 – 11 November, and 555RMB promo code on Double 11 itself at 10AM, 12PM, 2PM, 4PM and 6PM daily!
It may seem tempting to use your discounts once you get them BUT you should keep them till Double 11 because these discounts are stackable! So please ah, if you really want to buy your dress or your suit for your next date or your boyfriend/girlfriend's Christmas present, buy them on Double 11 cause cheaper.
Step 2: Catch 'Em All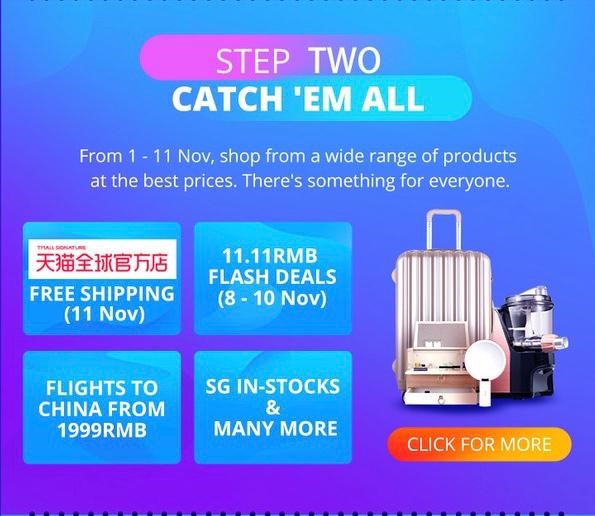 After grabbing all them vouchers, it's time to go on a shopping spree on Double 11! Some things to look out for:
11RMB Flash Deals: Happening from 8 – 11 November daily at 11AM, 2PM, 5PM. An additional timeslot of 8PM is added on 11 November itself. Be sure to grab products at only 11.11RMB! So cheap that even if you do not need it you would just buy only.
Free Shipping: Applicable to Tmall Signature (天猫全球官方店) and for 24 hours only on Double 11! If you have not heard of Tmall Signature, you can expect high-quality products from well-known brands! If you buy bulky items like furniture or electronics from participating brands, you would be saving on your shipping fee PLUS be assured of its quality.
1999RMB Flights to China: If you have been dying to see the scenic sights of China, now is your time to do so. Hotpot, mala and xiaolongbaos, are you drooling already?
SG In-stocks: Grab food & beverages, groceries, home & living hot deals which are all stocked and ready for shipment in Singapore at free delivery! So shiok, cheap deals delivered to your door step and you don't have to wait so long.
With all this happening on Double 11, let me remind you to keep your promo codes, vouchers, hongbaos and shop discounts until the date please.
Step 3: Unlock 'Em All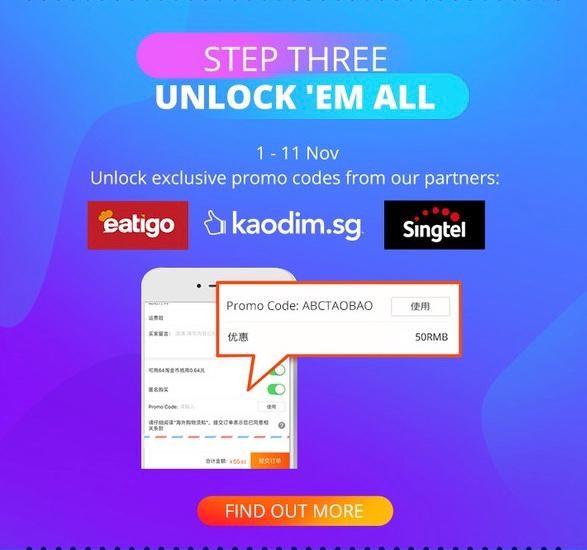 Besides promotions from Taobao itself, there will also be exclusive promo codes from Taobao's partners like Eatigo, Kaodim.sg and Singtel from 1 – 11 November! Remember to unlock the promo codes between these dates, cause if you do not, it will mean lesser savings.
Step 4: Card 'Em All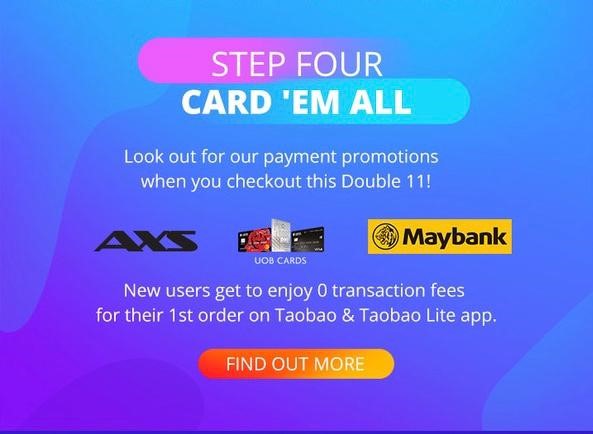 Once you have added all your products into your cart, it is time to check out, and even that, Taobao has got you covered. Be sure to check out the payment promotions for AXS, UOB and Maybank on Double 11 before you loot all your stuff!
If you are a new Taobao user, you can enjoy 0 transaction fees for your 1st order on Taobao & Taobao Lite App too. Probably time for everyone to download the app to prepare for Double 11!
Buy More @ NOMADX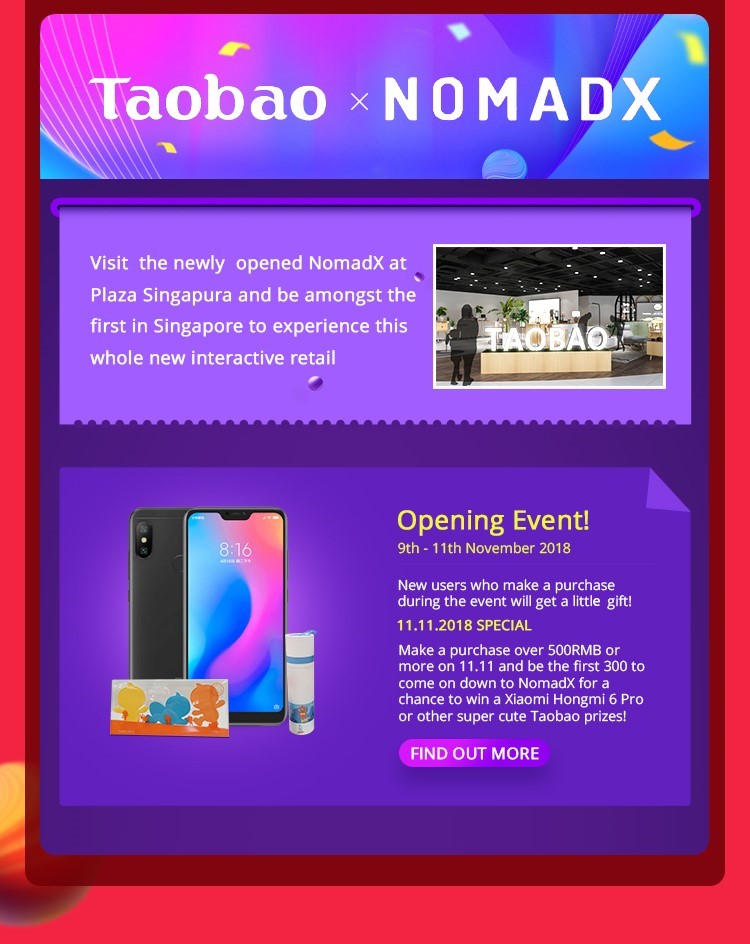 To provide a better shopping experience for you shopaholics, Taobao has also set up an event for you to interact, test, and feel the items before you purchase them on Double 11 at NOMADX from 9 – 11 November. If you have been hesitating on purchasing furniture on Taobao, this may also be a great time for you to do so as Taobao Home has partnered Qanvast to assist shoppers in finding the perfect fit to your Taobao Home with specially curated products.
This would be a great experience for first time Taobao shoppers too, if you have always wanted to shop on Taobao but do not know where to start, NOMADX may be a great event to start you out. However, let me tell you that once you are hooked on Taobao, you will never turn back!
For the first 300 customers who visits NOMADX and purchase over 500M or more on 11 November, stands a stand to win a Xiaomi Hongmi 6 Pro, or other cute Taobao prizes!
Taobao x NOMADX
68 Orchard Road
#03-65 – 69
Plaza Singapura
(S) 238839
Daily Giveaways
Join in Taobao's daily giveaways from 1 – 11 November and stand a chance to win prizes and promo codes worth up to 7000RMB. Taobao's Double 11 is all about savings, savings and more savings! For information on the daily giveaways happening, visit Taobao's Facebook Page for more information.
Refer & Earn
Lastly, if you have been an avid Taobao shopper all this while, it is definitely a time to invite your friends to do the same as Taobao is offering rewards worth up to 100,000RMB for those who refer your friends. Refer & Earn will be happening from 20 October onwards. To participate, download the Taobao Lite App and start inviting your friends! The more friends you refer, the greater rewards you reap as that means a higher chance to win prizes and vouchers of up to 100,000RMB!
Taobao Double 11
For more information on Taobao's Double 11 events, promotions and giveaways taking place, do visit here.