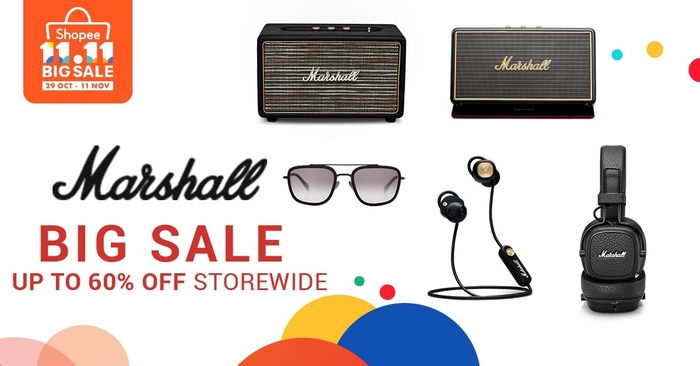 Rooted in 56 years of experience in the music industry, Marshall amps and audio products are one of the popular picks among professional musicians around the world. Renowned brand Marshall from UK is joining Shopee with massive discounts for the Shopee 11.11 Big Sale! One can expect up to 60% off storewide deals from 29 October – 11 November, with additional savings of 15% off up for grabs to stretch your dollar with in-store vouchers.
A cult brand among musicians, Marshall is best known for their electric guitar amplifiers over their 55 years in existence, and count rock stars like Slash of Guns N' Roses, Jimmy Page of Led Zeppelin, Kurt Cobain of Nirvana, and perhaps most significantly, Jimi Hendrix, as loyal users. Famous for its much sought-after 'crunch', its founder, Jim Marshall, is also known as the 'Father of the Loud'.
Marshall has since diversified from just catering to musicians, and has released headphones, speakers, and even sunglasses for those who want to have a taste of the Marshall brand even if they're not musicians.
If you are new to MARSHALL and would like to be part of the biggest shopping event of the year at Shopee, MARSHALL has provided a discount code for all of you, exclusive at Shopee! Enjoy a further 15% off send with this promo code: "MARS1111"!
Here are some of the top deals from the Marshall x Shopee 11.11 Big Sale to look out for:
MARSHALL Online exclusive launch @ Shopee:
Minor II Bluetooth | $229

Minor II Bluetooth is engineered to stay in place and feel comfortable throughout the day. It features custom-tuned 14.2 mm dynamic drivers that produce rich highs, crisp mids and clear, balanced bass that will make you feel like you're centre stage. The in-ear design provides just the right amount of noise isolation, while still allowing you to hear your surroundings.
Minor II Bluetooth keeps the music going strong with 12 hours of wireless playtime and quick charge functionality. Bluetooth 5.0 with aptX gives you the freedom and convenience of a wireless in-ear headphone. Its MAGNETIC PAUSE FUNCTION automatically pause your music when magnetically attaching the two earpieces together. Once connected, Minor II Bluetooth goes into a low-energy standby mode that will completely shut off after six hours of non-use.

Kilburn II Bluetooth | $599
Kilburn II comes equipped with Bluetooth 5.0 aptX technology for wireless music play. Play music with any Bluetooth device at a range of up to 30 feet away from the speaker.
Kilburn II weighs just 2.5 kg and offers 20+ hours of portable playtime on a single charge and is the loudest speaker in its class. Its compact size and guitar inspired carrying strap make it perfect to take with you. You can track the speaker's battery life with the visual battery indicator located on the top panel of the speaker.
Kilburn II is constructed with Blumlein Stereo Sound and produces a clear midrange, deep bass and extended highs that are unrivalled for a speaker this size, and its multi-directional sound will immerse you in your music, indoors or out. Its flush mounted corner caps and water-resistant design make it supremely rugged and durable.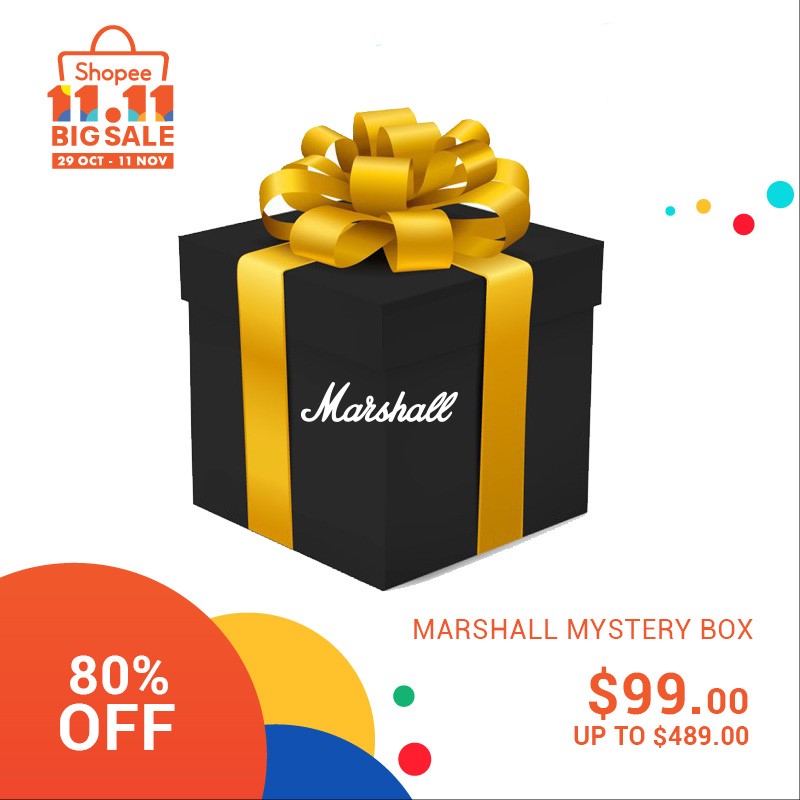 MARSHALL Brand Mystery Box | $99
Celebrating 11.11, Marshall has partnered with Shopee to offer you an exclusive mystery box!
The Marshall Brand Mystery Box contains of either Marshall Mode EQ earphone value at $139 or Marshall Major III Bluetooth Headphone value at S$289 or Marshall Acton Bluetooth speaker value at $489.
The Marshall Mode EQ sports the iconic Marshall logo on the cable clip and Marshall M logo on its earphones. Customised drivers have been fitted into Mode EQ's tiny frame to produce a well-balanced audio that boast a clear midrange, extended highs and deep bass. There are two different EQ settings on the Mode EQ. Use the first EQ setting for warm, bass-heavy sounds. Use EQ II if you prefer your music to be brighter with an emphasis on the mids and highs.
The Marshall Major III Bluetooth headphone features custom-tuned 40 mm drivers that produce an enhanced listening. It keeps the music going strong with over 30 hours of wireless playtime on a single charge and Bluetooth aptX gives you exceptional audio quality. A modern classic re-engineered, Major III Bluetooth features streamlined ear cushions, slim hinges, straight fit headband and thick loop wire with reinforced rubber dampers.
Marshall Acton is the most compact home speaker from Marshall. It's the perfect size to bring music to your home's smallest spaces. Acton features well-balanced audio that boasts powerful sound throughout the sound frequency. The clear midrange, extended highs and deep bass seem to defy the laws of nature for a speaker this small. With its Classic  Marshall Design iconic gold script logo, gold piping, vinyl casing and vintage-inspired fret, the Acton is an instant rock 'n' roll classic. Its devilish good looks draw inspiration from over 50 years of Marshall design.
There is 82% chance in getting Mode EQ, 12% chance in getting Major III Bluetooth and 6% chance in getting Acton. The items are worth much more than $99 on its own, and whatever mystery item you get would definitely be a steal!

MARSHALL Eyewear Sunglasses | $199 to $399 (60% off)
Marshall's iconic lettering has appeared on stage with every name in the rock pantheon. The brand's amplifiers brought the noise for everyone from Jimi Hendrix to the Rolling Stones, Guns N' Roses and even electro rockers Justice.
Drawing on a ubiquitous stage presence that has enraptured music fans around the
world ever since, Marshall Eyewear fuses classic shapes with rock 'n' roll attitude.
The frames are named after your favourite rock stars, in a collection designed to amplify your style whether you are on stage, offstage or backstage.
The muted palette lends the collection a strong, underground edge that resonates with the soul of Marshall's iconic past. To translate the high quality that has always been synonymous with Marshall Amplification, the handmade state of the art eyewear features Carl Zeiss Vision lenses, hypoallergenic titanium nose pads and stainless steel rims.
Enjoy up 60% off all MARSHALL Eyewear Sunglasses at Shopee.
MARSHALL x Shopee 11.11 Big Sale
Get your MARSHALL at an affordable price now with this MARSHALL x Shopee sale! We are sharing with you some awesome deals you can find during the sales, and when they would be taking place, so you do not miss out! Be sure to use the promo code for new users (MARS1111), valid till 14 Nov, 23:59.
*All items are available in limited quantities. For more information, visit Marshall Official Shop @ Shopee https://shopee.sg/marshall.sg using Shopee's App, or on the Website.