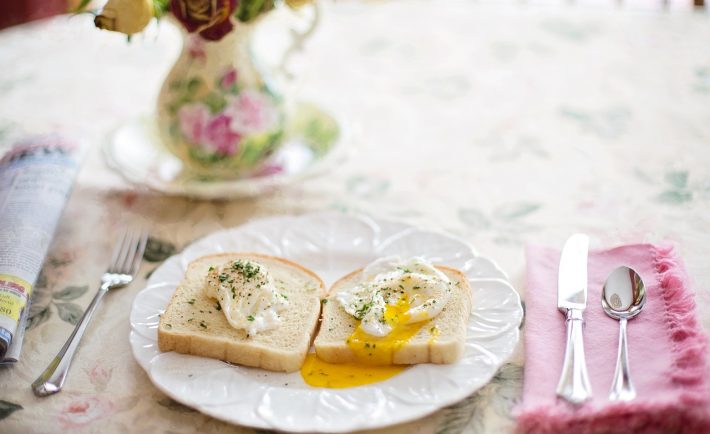 Image Credits: pixabay.com
When it comes to preparing breakfast meals, the options are endless. Adding pressure in time and health in the mix can narrow things down. So stay alert and sharp with these four meals:
FOR A COVETED JOB INTERVIEW
To ace a job interview, it is crucial to leave a lasting impression. Exude enthusiasm while answering the interviewer's questions by eating a protein-packed breakfast. Egg has about five grams of protein along with other vitamins and minerals. It also contains choline, which may delay your fatigue.
If you are feeling a bit fancy, you may add some smoked salmon in your omelet. The Omega-3 in salmon will help you sharpen your concentration. Save some time by purchasing the marinated salmon at the nearby grocery.
FOR AN EARLY MEETING
Put a healthy spin on the classic peanut butter toast by adding chopped bananas and a dash of chia seeds. The fusion of banana and peanut butter spread will make your stomach feel easily satisfied. Furthermore, chia seeds are rich in dietary fiber and protein! Your body needs all these to keep your mind pumping as you start an early meeting with the board members.
Worry not about the accessibility of organic chia seed as you can get a S$19-bag at FairPrice.
FOR BEATING A STRESSFUL DEADLINE
In Singapore, it is common to encounter a co-worker or a friend who juggles a full-time and a part-time job. Having overlapping deadlines can be stressful for these people. The keep to keeping your mind calm under stress is consuming folate. Folate and vitamin K are present in avocado.
Prepare a quick meal by mashing an avocado and spreading it across a whole grain bread. Add two "sunny-side up" eggs for a well-rounded breakfast. Then, finish it off by sprinkling some salt and pepper.
FOR YOUR PROPOSAL JITTERS
Congratulations! Your boss finally entrusted you with presenting a proposal to your important clients. Speaking in front of a "demanding" panel can make your stomach growl with extreme nervousness. What must you do?
Make a cup of plain yogurt your morning staple. Yogurt helps in boosting your energy and digestion. Look for a brand with no added sugar or flavors to avoid stomach irritation. You may add fresh fruits if you want.
One serving can cost you about S$4 or less!