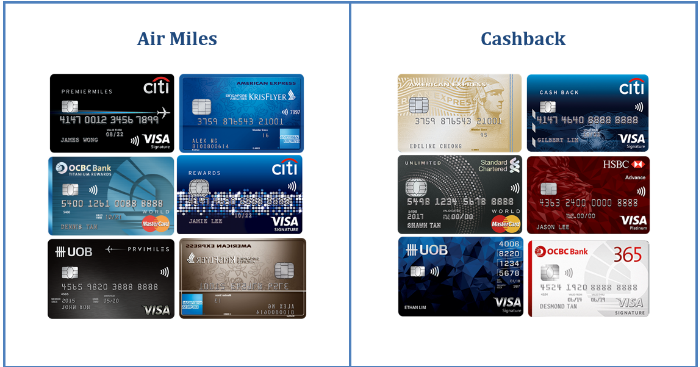 With the many credit cards that banks has to offer, deciding on a specific card has many factors and considerations. However, making such decisions all boils down to your lifestyle needs and your expenditure. There has been many debates with regards to Cashback and Air Miles rebates – one of the 2 top categories that people choose when deciding on a credit card, and if you wish to sign up for one in the near future, do read on as we explore which cards would suit you and your lifestyle and why!
To provide an easier comparison towards Cashback and Air Miles rebates, here is a summary of benefits of some of the top Cashback and Air Miles credit cards in the market right now (do take note that we will only be listing the rebates each card offers, other promotions and terms and conditions apply for card applications):
From 7 January to 31 January 2019, users can receive a red packet in the form of a $50 – $200 cash/vouchers gift when they apply for any of the selected credit cards below. More details here.

Cashback Credit Cards
Card
Rebates
Citi Cash Back
• 8% cash back on Grab rides, Dining, Groceries, and Petrol daily, worldwide
• Up to 20.88% fuel savings at Esso & Shell in SG
• 0.25% cash back on all other retail transactions
• S$100 monthly cap on cash back above 0.25%, but no cap for total cash back

Standard Chartered Unlimited
• 1.5% unlimited cash back on all your expenditure
• No minimum spend requirement
• Up to 24% discount on petrol at Caltex
• EZ-Link compatible
• 1-for-1 dining privileges at participating restaurants in SG, such as NamNam Noodle Bar, Peperoni Pizzeria and more
American Express True Cashback
• 1.5% flat cashback rate for all your spend
• No monthly spend requirement
• No cashback cap
• Extra savings on your online travel bookings on Expedia.com and Zuji.com of up to 14%
HSBC Advance
• 3.5% cashback for Advance customers (2.5% non-customers) with S$2,000+/mthly spend
• 2.5% cashback for Advance customers (1.5% non-customers) with below S$2,000/mthly spend
• S$125/mthly cap for Advance customers (S$70 for non-customers)
• Up to 16% fuel savings with Caltex or 14% with Shell
UOB YOLO
• 8% / 3% cashback on Online, Grab rides, dining & entertainment (weekend / weekday)
• 3% cashback on online fashion retail
• Up to 13% cashback on select travel booking sites like Expedia and Agoda
• 0.3% cashback on general spend offline
• 1-1 Dining deals, Nightclub promos, fashion & travel discounts
• Frequent promotions offering high cashback rates

Air Miles Credit Cards
Card
Rebates
Citi PremierMiles
• 1.2 miles per S$1 local spend
• 2 miles per S$1 foreign currency spend
• 2 complimentary airport lounge access vouchers
• Complimentary travel insurance
• Up to 14% on fuel savings at Esso and Shell
• Citi Rebate (up to 10% additional rebate with select merchants)
• 10,000 miles as renewal bonus with payment of annual fee
American Express Singapore Airlines KrisFlyer
• Earn 1.1 KrisFlyer miles for every S$1 you spend locally
• Earn 3.2 KrisFlyer miles for every S$1 you spend on Grab and Uber rides
• Earn 2 KrisFlyer miles for every S$1 equivalent in foreign currency spent overseas on eligible purchases during June and December.
• Hassle-free conversion with all KrisFlyer miles earned credit directly into your KrisFlyer account.
• Up to 50% savings with American Express Selects at a wide selection of restaurants in Singapore and around the world.
• Receive up to 30% off on walk-in rates at selected Plaza Premium lounges around the world, including at Changi Airport.
• Hertz Gold Plus Rewards® loyalty programme with 10% discounts and one car class upgrade
• Complimentary travel accident insurance up to $350k and Complete Fraud Protection Guarantee
• S$150 Cashback for use with Singapore Airlines when you spend S$12,000
• Get 1 chance for every S$50 spend on your card in each monthly draw to win 2 business class tickets to 12 destinations in the world (varies by month)
OCBC Titanium Rewards
• Earn 4 miles for every S$1 spent on local shopping or overseas
• Earn up to 6 miles for every S$1 spend with Mileslife
• Exclusive Lounge Key Access
• Cathay Cineplexes Exclusive Ticket Prices • Earn 2% Cash Rebates at BEST Denki
UOB PRVI Miles
• Earn 6 miles for every S$1 spent on major airlines and hotels booked through Expedia, UOB Travel and Agoda
• 2.4 miles for every S$1 spent overseas and 1.4 miles for every S$1 spent locally.
• Complimentary travel insurance of up to S$1,000,000
American Express Singapore Airlines KrisFlyer Ascend
• Earn 3.2 KrisFlyer miles for every S$1 spend on Grab rides, up to S$200 each calendar month.
• Earn 1.2 KrisFlyer mile per S$1 spend. Earn 2 KrisFlyer miles per S$1 spend in foreign currency in June and December.
• Earn 2 KrisFlyer miles per S$1 spend on purchases made singaporeair.com, SingaporeAir mobile app, silkair.com and KrisShop (in-flight and online), with no cap
• 4 complimentary access each year to any participating SATS Premier Lounge in Singapore and Plaza Premium Lounge around the world
• Complimentary night stay each year at one of over 110 Hilton Properties in Asia Pacific and complimentary upgrade to Hilton Honors Silver membership tier.

So, Cashback or Air Miles?
As you can see from the table above, Cashback and Air Miles offers 2 kinds of rebates – one in the form of money back upon spending, and the other in the accumulation of points which in turn be exchanged for travel perks. To actually decide on which is the most beneficial for you, we make some comparisons for you to round down which card would be best suited for you:
Do you spend less or more than $2,000 a month on your credit card?
I had someone mention to me that he used a cashback card as his income was peanuts and his expenditure was limited, in the case where lesser income means lower expenditure. As such, cashback rewards are considered extra savings to some, especially if you do not travel for leisure often. Also, they would often believe that low spending would also mean taking years to accumulate miles for a long haul flight which make air miles cards redundant. On the contrary, someone with a high salary and expenditure would not consider a cashback card as air miles would yield higher returns and benefits. Afterall, there is a cap to how much rebate you can earn on cashback, whereas most mile cards do not have a minimum cap to the amount of miles you can earn.
If you are an average Singaporean spending around $2,000 a month on your credit card, the best cashback card would ultimately yield greater rewards compared to the best miles credit card. To actually maximise your air miles credit card, one would need to spend more than $8,000 on travel per year.
Cards that offer high cashbacks of 3-8% like Citi Cashback, Citi SMRT Platinum Visa and UOB YOLO are normally for our daily expenses on things like dining, groceries and entertainment and the returns are normally higher than air miles cards if you do not travel or spend a lot. Also, air miles cards are most of the time beneficial for those who wish to redeem miles for business class tickets or long-haul tickets, which brings us to the next point.
Are you someone who wish to travel luxuriously, or seek practicality?
If you are someone who seeks practicality and is satisfied with budget travelling, you may not have a desire for air miles cards. Most, if not all air miles cards offers luxury travelling benefits like flights on SIA, lounging in premium lounges and staying in 5 star hotels. If your travelling experience means adrenaline and exploring the unbeaten path, you probably do not seek your travel experience in luxury flights and hotels, making cashback a more practical choice as you can use your cashback rebates to offset a travel activity or your travel expenses.
Of course, besides luxury perks, air miles cards also offers benefits like travel insurance, something which both the practical and extravagant traveller needs. These lounge access and travel insurance can also be considered as rebates, as if you do not have an air miles cards, they would also be something that you would have to pay for.
Do you seek convenience in the rewards gained from your cards?
As mentioned, cashback offers unlimited ways of spending your rebates, and you can also spend them immediately. However, in the form of air miles, there is a limit to what you can spend your rewards on. Air miles are most of the time limited to only travel perks, which could take a long time to accumulate for the trip you want. Furthermore, points are not fixed and will expire most of the time, and by the time you accumulate your points for a long haul travel, more points may be needed to exchange for the trip or you may not even have enough time to accumulate your points for your desired travel destination. If you wish to save all the hassle and planning, a cashback card may be more feasible for you.
Choosing the right card for yourself
Ultimately, choosing the right card for yourself all boils down to your needs. For someone that loves to travel, an air miles card would definitely come in handy. Even though it may take a long time to save for that luxury long haul flight, it is also a treat to sit that long haul flight on business class even if you are comfortable in that economy seat once in a while.
Ideally, it would be beneficial for everyone to own both a cashback and air miles cards to reap benefits from both. Age may also play a factor to which kind of cards you would prefer – when we are younger we may appreciate cashback cards, but as we get older we may also wish to enjoy the sweeter and more luxury things in life too. Personally, it is hard to take sides on which card is better, but if it was me, I would spend small purchases or daily expenses on my cashback card and big ticket purchases on my air miles card to enjoy the best of both worlds. Whether you are a miles or cashback chaser, both cards are cards that you would whip out of your wallet when they offer different promotions and lifestyle deals too!
SingSaver Chinese New Year Ang Pows
If you wish to sign up for either a cashback or air miles card to benefit from your Chinese New Year spending, now may be the right time to do so as SingSaver will be rewarding its user with ang pows in the form of $50 – $200 cash and vouchers for credit card sign ups this Chinese New Year from 7 – 31 January 2019. Apply for more than a card and receive multiple set of red packets!
The table below shows the exclusive gifts rewarded for specific card signups: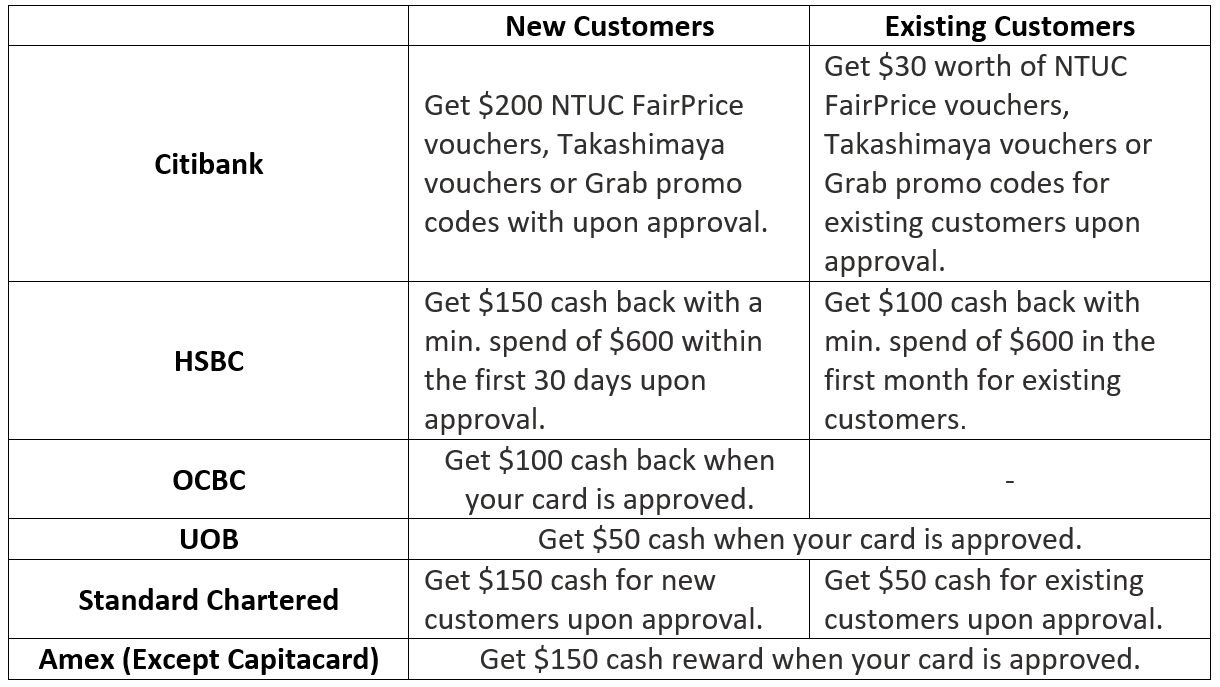 Steps:
Apply for any of these credit cards on this page
Enter your email address after you click "Apply"
Continue application with the bank/card provider and take note of the Application Reference Number. (some of the ARN(s) can be found in your email inbox/spam folder after your application)
Fill in the Rewards Redemption Form (Check the link in your email) or fill in the form here.
Once validated, SingSaver will send you instruction on the collection of the cash and vouchers within 2 calendar months.
What's more you get additional $50 cash per card if you applied for a card in the winning team (Cashback Team or Air Miles Team)
Bonus: Comment and Tag 3 Friends on this post on why you think Airmiles or Cashback is better. The top 3 most creative answers from the winning team will each receive $888 cash!