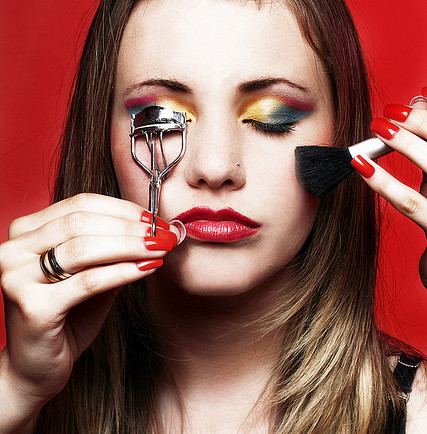 Image Credits: Renata Alves dos Anjos via Flickr
1. ESSENCE I <3 EXTREME CRAZY VOLUME MASCARA
S$5.50 at Watsons outlets
One of my all-time favorite beauty products is mascara. Perfectly good mascara can highlight and enlarge how your eyes look. The mascara's wand is bigger than others but you will find it easier to maneuver. The staying power is good in both warm and cold weather. The Essence I <3 Extreme Crazy Volume Mascara gives your lashes length, thickness, and darkness to increase its volume. Best of all? It retails for only S$5.50! Good quality at an affordable price – count me in! If you are more comfortable with a smaller wand then, browse to Essence's wide range of mascaras. See the before and after application by nouveaucheap below:
2. NYX EYE SHADOW BASE
S$14 at Sephora outlets
Imagine spending countless minutes just to get the perfect winged eyes with shimmer eye shadow. With Singapore's tropical weather, it will be gone right away once you step out of your house. To prevent this, NYX introduced its eye shadow base. This eye shadow base is basically a good alternative for an expensive eye primer. It will work even more for people with dry skin. Use it to boost the longevity and strength of your eye shadow and eyeliner. There are 3 colors to choose from namely: white, white pearl, and skin tone.
3. TOPSHOP MAKE UP MONO EYESHADOWS
S$9.90 at Topshop outlets
Aside from their youthful clothing pieces, Topshop also offers a good selection of cosmetics. The Mono Eyeshadows come in four shimmering colors namely: Explorer (reddish satin), Interstellar (taupe/cool brown), Galaxy (warm chocolate brown), and Lunar (brownish purple). These eye shadows are raved for its beautiful pigmentation and even application. Its powder has shimmer that gives a velvet finish. Truly, you'd stand out with its vibrant and smooth colors.
4. COLLECTION LASTING PERFECTION CONCEALER
S$14.90 at Watsons outlets
With a huge public demand in United Kingdom, Collection Lasting Perfection Concealer finally made its way to Singapore. Collection Lasting Perfection Concealer has conceals blemishes and flaws for up to 16 hours. So, a little application of this creamy tube can go a long way. It comes in four colors namely: light, fair, medium, and dark.
5. BOURJOIS MEGA LINER (DARK BLACK)
S$19.50 at Watsons outlets
Looking for eyeliner for a dramatic makeover or special occasions? With its thick and dark felt tip liner, BOURJOIS Mega Liner Dark Black is the perfect budget-friendly choice! Its mega angled felt tip allows you to make both thick and thin lines with high precision. It is also suitable for sensitive skin. Worry not if you are partying the whole day, as BOURJOIS Mega Liner Dark Black will hold for 24 hours!