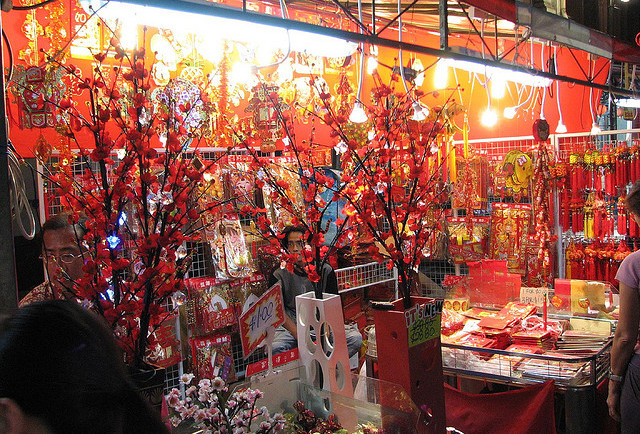 (Image credit: travellingzenwolf, via Flickr)
There are 2 reasons why all of us would be looking forward to Chinese New Year in 2015. Not only because there would be a long weekend for us to take a break from the flurry of work or school, it is also the time for us to indulge in all the festive goodies that are usually only rampant during this time of the year!
On the other hand, some would be groaning at the vast amount of work needed to prepare for the festival, such as the preparation of red packets and being laden with the overwhelming responsibility of whipping up a sumptuous meal for the entire family for the occasion. Not only do you need to feel the pinch of giving money away to the young and old, you are also expected to spend a lot of money on buying exorbitantly priced ingredients to prepare the meal. Besides having to buy ingredients in large amounts since the extended family would be present for the reunion, prices of the ingredients would have risen sky high due to the rise in demand and low in supply during this point of time.
Many dread the process, but we help you make it a little more enjoyable!
Woodlands Industrial Park
Many have raved about it, but just how many people really know about its hidden gems? Mainly well-known for their good bargains for food and goodies, many flock there during festive period to stock up.
Despite being an industrial area, there have been tours to Woodlands Industrial Park organised by community centres and other organisations to bring people to the popular outlets for grocery shopping. Honestly, I would admit that it is very much more convenient to travel there if you have a car as it is quite inaccessible where you can only get there via bus. But if you must, there is always bus service 964 from Admiralty MRT Station which can bring you there!
Personally, I have been patronising several distributors found there for my goodies fix such as J&C Fong's Confectionary (they have excellent pineapple tarts and butter cakes) and Melvado's with my family since young as my family love the good food and attractive bargains that can only be found there. Apart from the big companies like Frangrance, we can also find smaller suppliers opening booths at their stores selling items such as nian gao (traditional rice cakes) or even steamboat ingredients just for the occasion at a much lower price as compared to NTUC and the like. Customers can grab their groceries at wholesale prices and if you're re to make a quick calculation, you actually would save a lot more from all the purchases you have made there.
Chinatown on Chinese New Year's eve
Visiting Chinatown during the Chinese New Year period is mandatory, not just because one would go there to soak up the festive atmosphere, but also because that is a place to buy CNY goodies at crazily low prices. If you are one who don't mind squeezing in the massive crowd, going to Chinatown on dates closer to the Lunar New Year would be one of the best times because that is when vendors start slashing the prices of their stocks, especially perishables like the Taiwanese Sausages, sweets and pineapple tarts in a desperate bid to get rid of them.
Johor Bahru
If you are able to grab hold of your passport, go take a bus from Woodlands checkpoint to JB to do some shopping! Right outside the Sultan Iskandar CIQ Complex (if you are lost, I am talking about the Malaysian customs) are 2 large shopping malls just side by side, linked by a connecting bridge – City Square Mall and Komtar JBCC – where you can shop til you drop. Within City Square itself, there are various hair salons, nail parlours, massage parlours and boutiques to prepare for the occasion! Komtar JBCC has many sports outlets and beauty stores as well. Not to mention the number of restaurants and cafes in both malls that you can visit to rest your aching body from all the shopping. Definitely you would be able to find many things that you need for CNY!
Apart from these places, there are other means to purchase necessities such as going online to shop for clothes etc. because there is no change in the price. But always remember that the best way to avoid hassle is to start early!