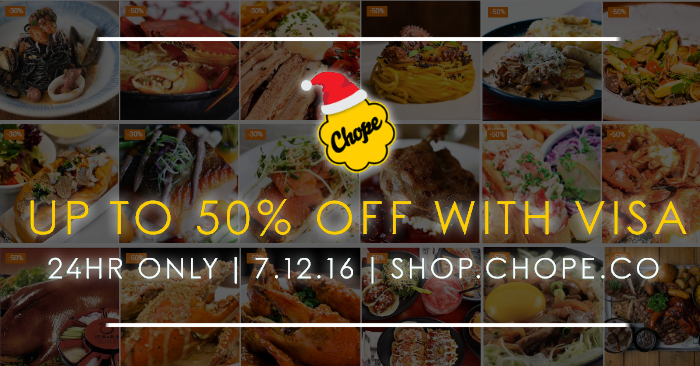 This is a sale that you don't want to miss.
Chope, Singapore's largest restaurant-reservation booking platform, will be running a festive sale this December.
For only 24 hours on 7 December, customers can look forward to up to 50% off dining vouchers to over 20 popular restaurants.
Chope is partnering with Visa to take an extra $20 off the usual price of the vouchers. Hence, diners only have to pay $25 for $50 vouchers (U.P. $45) and $70 for $100 vouchers (U.P $90) – only for one day and while stocks last
Simply key in the first 6 digits of your Visa card on 7/12/16 to enter the page, and purchase the sale items!
* Update 8 Dec 16: $50 vouchers are sold out, but you can still enjoy 5% off storewide discount from now till 11 Dec, with the code <TAKE5>
1. Atlas Coffeehouse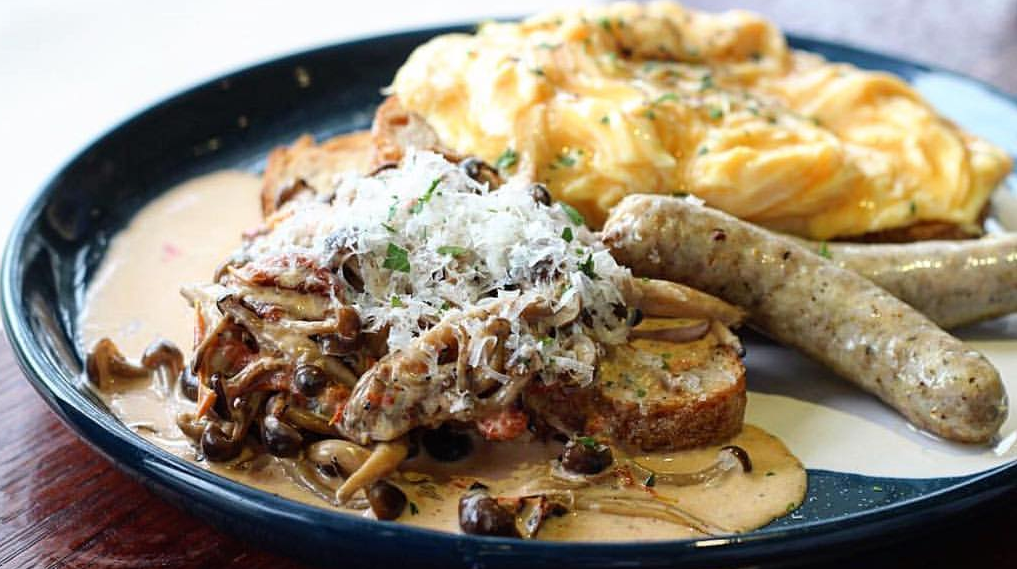 Fans of popular cafe Assembly Coffee can now flock to its sister business, Atlas Coffeehouse. Situated in one of the city's lushest, chillest spots, it's just a stone's throw from the Botanic Gardens and the quiet estates of Bukit Timah. It's the perfect spot to while away an afternoon. Think handsome industrial-chic decor overlooking greenery and a nice cup of coffee. It's especially popular with students from the nearby campuses, so the vibe is young, hip, and friendly!
What really hits the spot is cafe grub done well and with flair. There's lots of hearty fare here: massive all day breakfasts, beautiful caramelized bacon on waffles, and soul-warming bowls of pasta. Save some room for sweets! The Butterscotch Banana Pancakes – toffee-like bananas on a massive fluffy pancake – is to die for. It's not a cafe without a good, piping-hot cup of java. Brewed from a custom blend by local roasters 2Degrees North, the coffee here is robust and punchy in all the right places.
$25.00 $50.00
2. Aura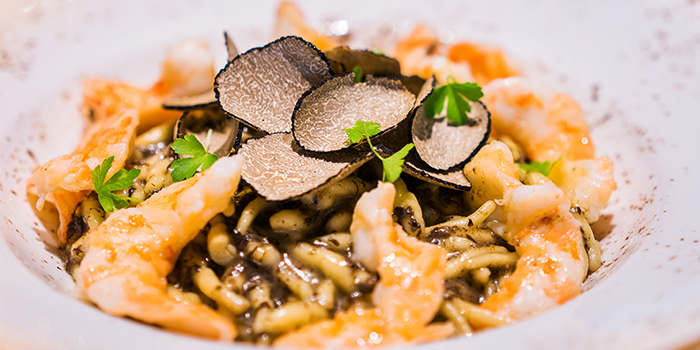 Helmed by an expert team of F&B professionals led by De Vito, Aura Restaurant treats diners to classic Italian cuisine and a world-class contemporary dining experience. Pushed by the passion for the most humble allure of Italian cooking, the restaurant takes inspiration from Italy's homely recipes and generous flavours and elevates them into refined, elegant meals, where guests are invited to share dishes in casual family style for them to commune over meals.
The menu is an extensive expression of Italian creativity, showcasing a wide variety of antipasto, pastas and wholesome mains that features the finest and freshest ingredients from the land and the sea, with an emphasis on seasonal produce. Every dish is an original creation unique to Aura, but maintains honest and authentic to the ethos of Italian culinary arts.
$25.00 $50.00
3. Dancing Crab (Orchard Central/VivoCity)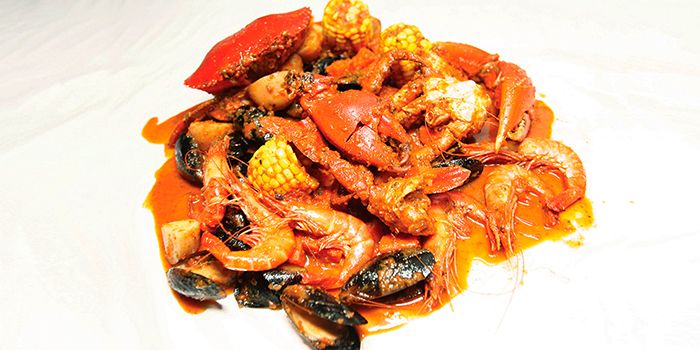 Dancing Crab is at it again! With a new location at Orchard Central, they're rolling out the same intense Creole flavors at the Turf Club now smack-dab in the middle of the city.
Inspired by New Orleans, Louisiana, you can expect only the freshest shellfish, specialty lobsters, dungeness crab, and various other seafood critters to be hitting the table. All packed with tons of flavour, these babies are perfect for pairing with just about anything. So go ahead and order the Spicy Cajun Fries, the Seafood gumbo, and the Beer Batter Cajun Calamari!
Don't forget to come prepared just in case those bold flavours take a liking to your clothes by leaving the white shirt behind. This is one place you want to get down and dirty!
$25.00 $50.00
[Buy Voucher (Orchard Central) | Reserve Now (Orchard Central)]
[Buy Voucher (VivoCity) | Reserve Now (VivoCity)]
4. Pince & Pints Restaurant and Bar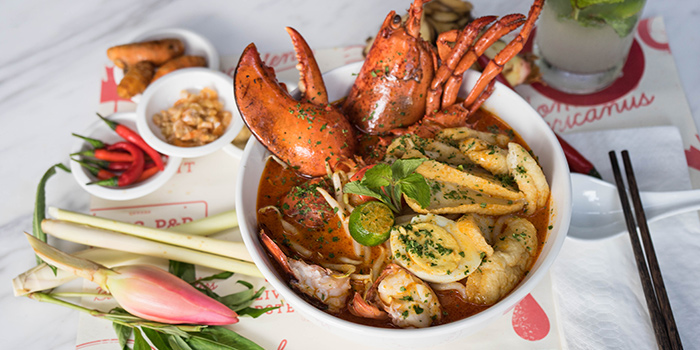 Enough talk about crabs, guys, it's time to focus on another delicious crustacean: lobsters. At Pince and Pints, these bad boys are imported directly from fisheries that practice sustainable fishing methods along the Atlantic Coast, so you can chow down on these fresh, premium sea creatures without harming the natural population of wild lobsters.
Lest you're only familiar with the taste of lobster in an Asian context, the concentrated selection of contemporary lobster dishes – each made with 1 whole lobster – might be confusing at first, but you'll soon be won over by the succulent meat and punchy flavours on the New England-style menu. Try their signature Lobster Roll, the classic or truffle version, tap on your Singaporean side by going for the Chilli Lobster, or remain a purist with a Live Whole Lobster either grilled or steamed. Whichever dish you decide on though, you'll be guaranteed a lip-smacking good time!
$25.00 $50.00
5. Mellben Seafood (Toa Payoh)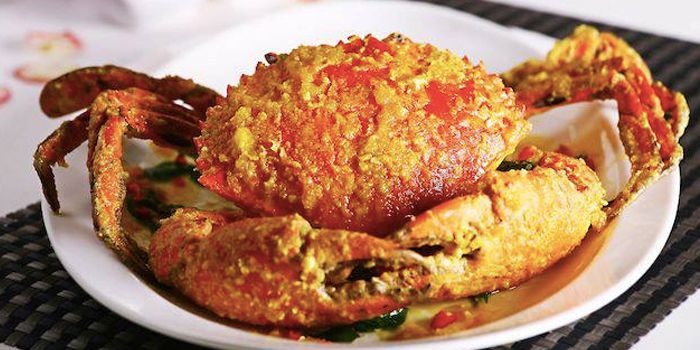 Opened in 1988, Mellben Seafood has grown its outlets and influence thanks to its sensational seafood recipes that have diners clamouring for more.
The Mellben Seafood brand is no stranger to the majority of crab-loving locals with spin-offs popping up all over town in the years since it was established. However the Toa Payoh outlet is the place to go for a casual family gathering, complete with an accommodating outdoor patio and a dazzlingly efficient staff that knows how to please your gang. Reservations are always encouraged because with recipes this tasty, every night is bound to be a packed one. As for the bill, you will be paying for quality, but you will be pleased to see at what a good value such high standards come.
From the menu, the Bee Hoon Crab soup has been claimed by many to be the best in town. A perfectly balanced broth of savoury seafood flavour along with natural sweetness from the rich crab meat melds into an elixir that may have superpowers- it's that tasty. The Chilli Crab and Salted Egg Yolk Crab are of course popular preparations, however every regular diner seems to have their own favourite item from the menu, attesting to the multiple visits they've had to try them all, as well as the overall quality of the menu. Hundreds of repeated diners can't be wrong- Mellben Seafood at Toa Payoh is a Singapore seafood force to be reckoned with.
$25.00 $50.00
6. Ninja Bowl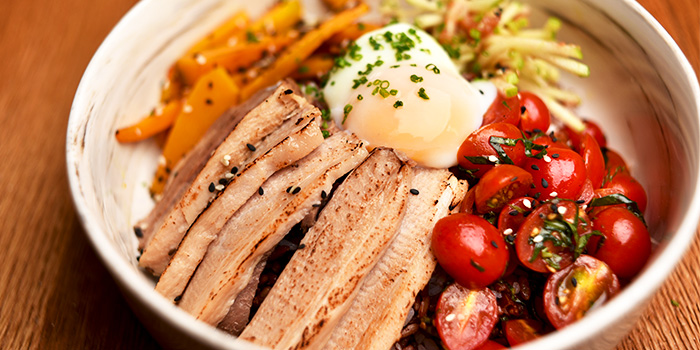 Karate kick your next meal into high gear with Ninja Bowl on Duxton Hill! Serving up an extensive menu filled with unique all-day brunch options (the Fancy French Toast is a must-try), sandwiches, and hearty bowls of Japanese-inspired dishes, the latest concept by the owners of Chillax Cafe and Babette Restaurant & Bar is wickedly delicious.
Their signature Ninja Bowls are outta this world and what we consider to be the pièce de résistance. Comprised of Japanese-inspired items like Aburi Chashu (Torched Pork belly) and Yaki Unagi (Grilled Eel), and then padded with ingredients like quinoa, orzo, fresh veggies, and more – they are hearty, healthy, and will keep you pumped up to take on any challenge that comes your way!
$25.00 $50.00
7. Vatos Urban Tacos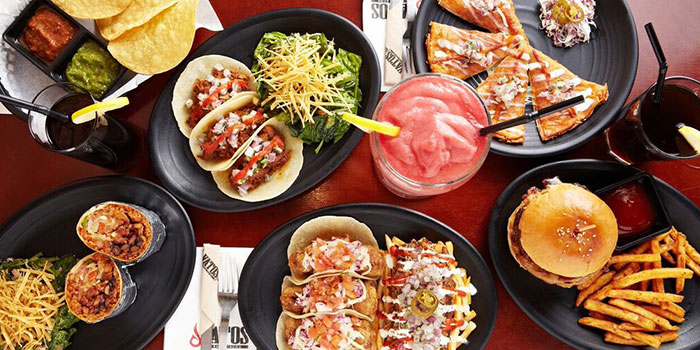 Doling out zesty and delicious Korean-Mexican fusion fare isn't an easy feat but the guys over at Vatos Urban Tacos make it seem effortless. With all three owners having roots in either California or Texas, and growing up on true-blue Mexican eats, it's safe to say they know a thing or two about the flavour explosion the cuisine brings with it.
A quick glance at Vatos' "Seoul-Mex" menu and you'll know exactly what we mean. Using only the freshest ingredients around, they dish out masterful, ultra fiery creations like Chimichurri Chicken Tacos, Kimchi Carnitas Fries, Carne Asada Steak Quesadillas, and more. However, no visit is complete without their Vatos Cowboy Queso and one of their signature margaritas, so be sure to order one (or two) of each before you head out!
$25.00 $50.00
8. Wild Honey (Scotts Square)
Wild Honey's branch at Scotts Square takes everything we loved about their first outlet, and turns it up a notch. There's something inherently charming about the space with the bay windows that run along two of the restaurant's four walls, and the dark wooden furniture given a chirpy finish by bright cushions.
Menu wise, breakfast dishes are named after the region they embody, giving you a refreshing context to the flavours tickling your palate. Ranging from the "I Love New York", a platter of scrambled eggs, smoked sturgeon, and a toasted bagel served with cream cheese, to the "English", a full English breakfast of eggs, pork sausage, sautéed mushrooms, baked beans, bacon, brioche and vine ripened tomato, you can do a culinary tour of the world right from the lush, comfortable armchairs of the restaurant.
Crowd favourites like the European, Scandinavian, and the Tunisian all make a return, with some exciting new additions. One of the new dishes that really caught our eye was the Caribbean: a tantalising coconut waffle creation.
If you're into a boozy brunch, a liquored lunch, or even a drunken dinner, Wild Honey's got you covered. In addition to the excellent food options, Wild Honey also has a mouth-watering selection of cocktails that you'll be hard-pressed to find anywhere else.
$25.00 $50.00
9. Braci
There is nothing quite as nostalgic as dining next to the Singapore River in the evening, and watching the lights in the city flicker to life. One thinks about the godowns that lined the river in the past, or the labourers that went to and from the boats, and marvel at how far this nation-state has come.
Well, imagine that view with amazing Italian food right in one of those shophouses along the river. Braci, an Italian restaurant and rooftop bar, is perched on the top two floors of a newly-restored heritage shophouse. Sitting at one of the tables here, in the darkened quiet, is like being part of a completely different world far removed from the bustling Boat Quay below.
On the menu, this casual-luxe, open-kitchen restaurant, and 30-seater bar features progressive Italian cuisine and classic cocktails that have been reinvented with something simple: charcoal. It is the main cooking method here, very apt for a dining establishment whose name literally means 'ember' in Italian. Our favourite dishes are the Wagyu Tongue and the Duck Breast — the smokiness of the charcoal has worked its way into the fibres of the meat, rendering it succulent, juicy, and simply unforgettable. For a taste of great food using an old-world cooking method, in a place that is full of memories, Braci is the place to be.
$25.00 $50.00
10. Violet Oon Singapore (Bukit Timah)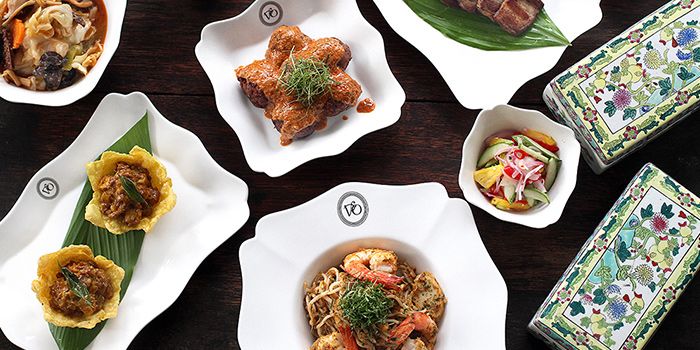 It's not every day that you get to meet a bone fide celebrity chef. Dine at Violet Oon's Kitchen though, and you stand a very good chance of meeting the woman once described as "Singapore's Julia Child". Serving traditional Nyonya dishes, Violet Oon and her family personally invite you to experience the unique flavours of Peranakan cuisine in a beautiful black and white setting.
Given that Ms. Oon is an expert on all things Nyonya, you can't go wrong by exploring the "Nyonya Favourites" on the menu. However, the western offerings, inspired by her experiences travelling abroad as Singapore's food ambassador, deserve some consideration. Her Shepherd's Pie is a cult favourite, while dishes like Chilli Crab Pizza, and Brioche French Toast with Gula Melaka Banana Sauce present an interesting Nyonya twist.
Whether you decide to dine al fresco, or choose to be within the confines of the updated Peranakan decor, don't be surprised if Ms. Oon stops by and introduces herself, or even goes so far as to bring up a chair and chat with you for a bit!
$25.00 $50.00
11. The Fabulous Baker Boy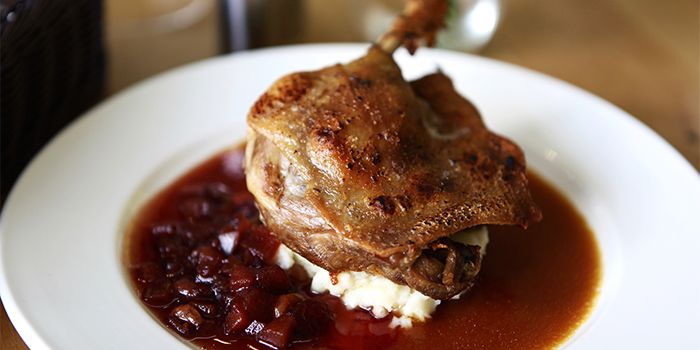 When it comes to wholesome eats and desserts that'll make your mouth water – look no further than the grassy knoll at the foot of Fort Canning Park because that's where you'll find it all! Sitting in the canteen of the former River Valley Swimming Complex is The Fabulous Baker Boy, a bakery and cafe dishing out vibrant and bold dishes and some of the most tantalizing desserts we've ever devoured!
Helmed by head chef and owner, Juwanda Hassim, aka The Fabulous Baker Boy himself, diners here can look forward to unique and comforting dishes like the Chilli Crab Mac n' Cheese, Fried Chicken & Waffles, Ju's Prawn Pasta which is made with al dente pappardelle tossed in a rich crustacean cream, and more! Using only the most high-end ingredients and freshest produce around, they've really got each dish down! Take the Duck Confit for instance, the duck is confit overnight and roasted before serving it on a bed of creamy mash, a light Jus, plum compote, and slightly torched to lift and crisp the skin just before serving!
$25.00 $50.00
12. Uncle Leong Seafood (Punggol/Jurong East)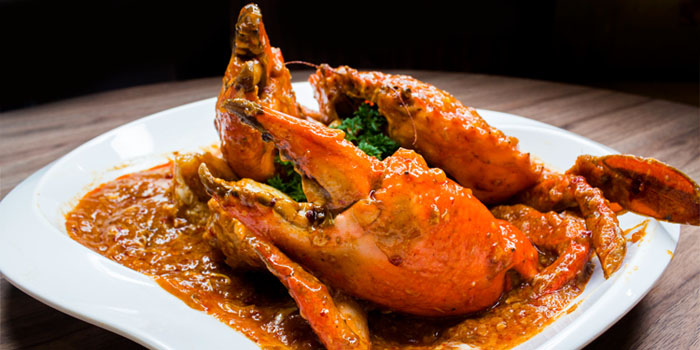 Uncle Leong Seafood is a popular and laidback destination for all those seafood comforts you crave.
With a pleasant waterfront view and accommodating dining room, Uncle Leong's is aimed at making diners feel at home. After all, a hearty meal of Chinese seafood delicacies is a family tradition for most of us, and the next best thing to home cooked, is the variety of delectable treats at Uncle Leong's. Here, shellfish are sourced as fresh as possible, and a variety of sizes are available for diners to choose rom.
Along with the traditional Chilli Crab and Bee Hoon that's long been a signature of this seafood institution, Uncle Leong's features several other delightful concoctions that are worth a try. The Shimmering Sand Crab Delight offers a particularly savoury sauce and pleasing crunchy texture that's often missing in crab dishes. Speaking of crunch, the Gold Coast Prawn amps up the cereal recipe, with deliciously plump crustaceans in a spiced mix of golden, crispy topping. For the carnivores, the Guinness Pork Ribs is a favourite, with thick, mahogany sauce gaining tons of caramelised flavour from the distinctive beer, a perfect match for the meaty pork ribs. Made for sharing and family style enjoyment, Uncle Leong Seafood should be on every seafood fan's must-try list! (Mar 2015)
$25.00 $50.00
[Buy Voucher (Punggol) | Reserve Now (Punggol)]
[Buy Voucher (Jurong East) | Reserve Now (Jurong East)]
13. Jamie's Italian Vivocity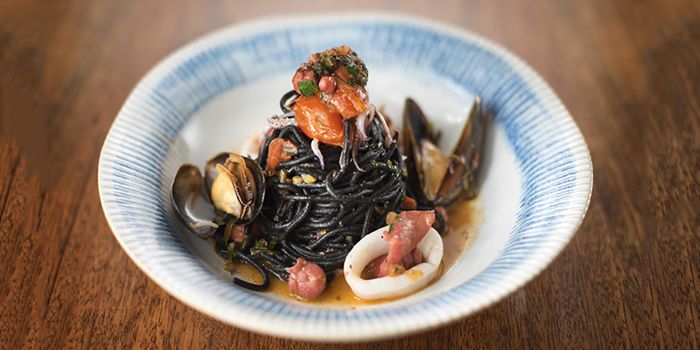 Whether you're a foodie or not, you know that Jamie Oliver is synonymous with uncompromisingly fresh, sustainably sourced and whole foods cooking. The other place you might know him from is his eponymous VivoCity trattoria, rarely seen without mile long queues signaling its worth-the-wait deliciousness.
Though still epically good, you no longer have to wait your turn for a seat at Jamie's table, now that you can book in advance through Chope. Simply click away and then walk right in to the rustically modern eatery, furnished with hip yet homey seating arrangements that are perfect for first dates, family dinners and everything in between. An incredible pasta bar is a showpiece, with busy chefs crafting spools of amazing homemade noodles. The money shot, however, is from the light-bathed main dining area, with seaviews of Sentosa hardly rivaling cherry-red banquettes and stunning industrial trimmings.
Even a game of menu roulette would result in a fantastic meal here, with each item dreamed up by Jamie himself and executed perfectly by his trusted team. Be sure to start with a platter of sensational nibbles, tailored to the number of diners and your preference of fish, meat or veg. The stunning array comes propped upon the table by two full tin cans, balancing a wood plank of pickled, spread and cured numbers that are to die for. From the mains, the handmade pastas are surefire, coming in two sizes to allow for plenty of menu sampling. Hunger-slaying mains like the Burger Italiano are also on offer, all abiding by the unrelenting freshness of country ingredients.
So whether you're a big fan or a newfound follower of Jamie Oliver, one meal here and you will be convinced that this Brit knows what he's doing with widely-appealing Italian cooking!
$25.00 $50.00
14. Hungry Heroes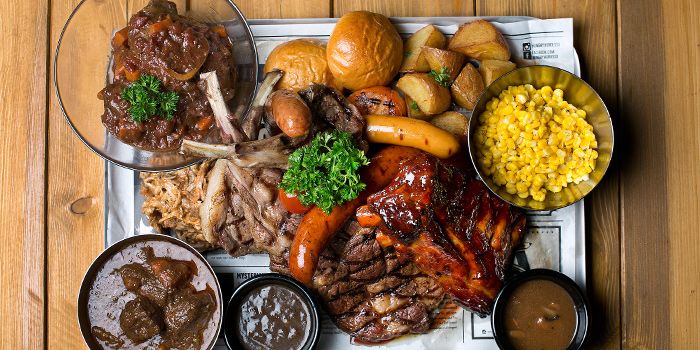 Hungry Heroes is Singapore's first Superhero theme café and restaurant located in Little India.
Hungry Heroes' American menu features a range of specialty meats such as the Bacon Karate Chop with Honey Thyme Gastrique ($20++) and Nuclear Fission Angus Beef Cheeks ($28++); as well as outlandish and decadent burgers such as the Spider Pig Burger ($21++) and the Mother of all Chicken Burgers ($32++). Fall­‐off­‐the bone Pork Ribs are also a specialty at Hungry Heroes and are available for order in half racks (from $21++) and full racks (from $38++) in a variety of flavours. Twice­‐cooked, the pork ribs are first braised over low heat before being glazed with house marinades and placed in the oven to seal in the juices.
For a hearty communal feast, the "Hungry Heroes Platters" such as the "Nice to Meat You" ($62++ per platter, serves 2 to 3) and the "Steak­‐out" ($118++ per platter, serves 5) are perfect for vibrant get-­togethers. Each platter features a combination of meats and is served with French fries and mesclun salad. Sparing no effort on the menu, complementary light bites and sides such as the Clash of the Potato, Mayo & Scallions ($7++) and Beef Chilli Con Carne ($7++) are prepared fresh daily, and all accompanying sauces like the Coriander Honey and Cajun Mayo Sauces are homemade based off the chef's special recipe.
Hungry Heroes is decorated with countless original and licensed superhero memorabilia from Marvel and other comics collected over twenty-­five years. The abundance of life­‐sized superhero statues, head busts and action figurines will leave any comic book fan in awe.
$25.00 $50.00
15. Osteria Art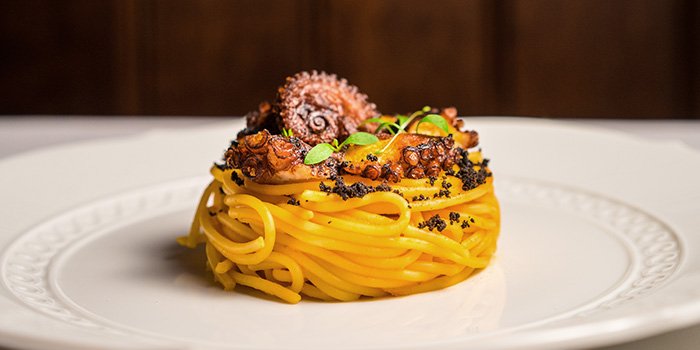 Located on the bustling stretch of 55 Market Street, Osteria Art is Singapore's newest Italian dining establishment by renowned restaurateur Beppe De Vito. A silver service restaurant and bar, Osteria Art brings an elegant and intimate dining experience paralleled to the very best osterie in Milan, Rome and Florence, with classic Italian cuisine, a 500-label strong wine list and the city's best aperitivo selection.
The 80-seater osteria celebrates the Italian gastronomic heritage like no other in Singapore and sets one of the best value-for-money standards for Italian cuisine in town.
The cuisine of Osteria Art takes inspiration from centuries-old classics that stood the test of time across regions and generations of Italy and have ultimately shaped today's Italian cuisine.
$25.00 $50.00
16. Wooloomooloo Steakhouse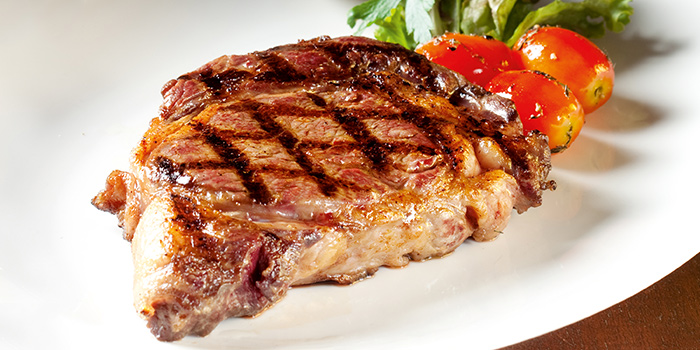 If you are in search for an experimental, avant garde take on steak, Wooloomooloo is not the place for you. Instead, Wooloomooloo is among the best classic refineries of steakdom in this hemisphere, with a name from Down Under, and years of experience from the namesake Hong Kong restaurant group. Including everything that has made steakhouses its own genre – premium cuts, elegant décor and classic trimmings – Wooloomooloo is set to "steak" its claim as one of the premier houses in Singapore.
From the 3rd floor of the Raffles City Shopping Center, Wooloomooloo boasts a picturesque view of Stamford Road, St. Andrew's Cathedral, and for Formula One enthusiasts, Turn 9 of the only night race in the world. There is much to be proud of, with an expansive lounge and dining area flanked by handsome leather seating and stacked wood touches that have become iconic. Aboriginal dot paintings pay homage to the Aussie title while an impressive meat case and open kitchen pay homage to the other source of the restaurant's greatness, its remarkable steaks.
With more offerings than it has O's, the range is well-varied and precisely prepared – think jumbo prawn cocktails, a mammoth Australian Black Angus Tomahawk, a highly sought after USDA prime rib eye, and a gorgeous bread and butter pudding if there ever was one. Take our word for it, when it comes to steak, go classic. Go Wooloomooloo.
$25.00 $50.00
17. Saveur (Far East)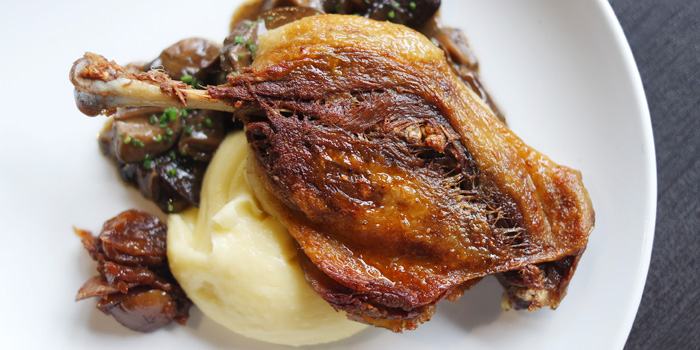 In case you don't remember a time before Saveur, French cuisine was almost synonymous with fine dining back in the day, so you can bet we sat up and took notice once this wallet-friendly restaurant burst onto the scene. Don't be too quick to dismiss the quality of the food before you tuck in though, the multitude of classical techniques used to create their particular brand of contemporary French fare are a testament to the professional training of the chefs.
Begin with a starter of Saveur's Pasta before moving on to main plates like Beef Bourguignon, Chicken Roulade, and the signature Duck Confit. Rounding off the relatively compact menu are sweet treats like the Pistachio Panna Cotta which sound too good to pass up. It's difficult to believe this eatery had their first debut in a humble coffeeshop! Saveur's one-two punch of French flavours, tweaked to suit the local palate, and reasonable prices will leave you salivating for more. It's no wonder, then, that lines can sometimes extend out the doors.
$25.00 $50.00
18. Sin Lee Foods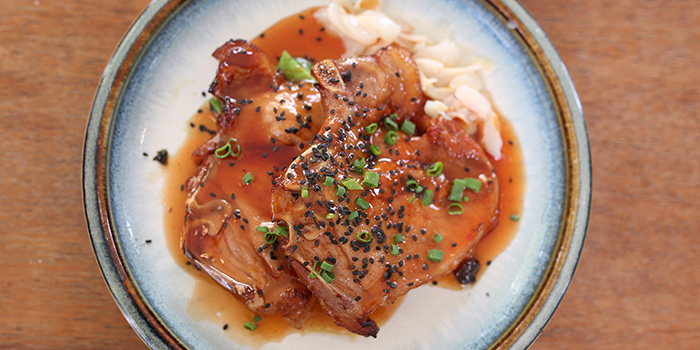 A cafe that smacks of nostalgia on Bukit Ho Swee, Sin Lee Foods has preserved both the name and original signboard of its vintage space, while updating the menu with delectable cafe confections that ups the brunch game in the already-trendy Tiong Bahru neighbourhood.
Set at the foot of Block 4 of Bukit Ho Swee, Sin Lee Foods is a find for both its off-the-beaten path locale as well as its scrumptious fare. Whip out the GPS for this one, and you will be rewarded with second to none takes on breakfast essentials. While the cuisine and look of the cafe is modernised to the peak of trendiness, it still pays respects to its local roots.
Despite its tucked-away address, the space is regularly humming with patrons, overflowing to the al fresco seating right alongside the HDB outdoor pavilion; just the kind of neighbourhood immersion that most restaurants try to overcome rather than embrace. Prop yourself upon a leather tufted bar stool for a street side view while roll-down, thick-striped shades offer some respite from the heat. An iced long black boosted by Papa Pahleta coffee beans help in this endeavour, or opt for a latte for some Instagram-worthy latte art.
$25.00 $50.00
19. TungLok XiHe Peking Duck (Orchard Central)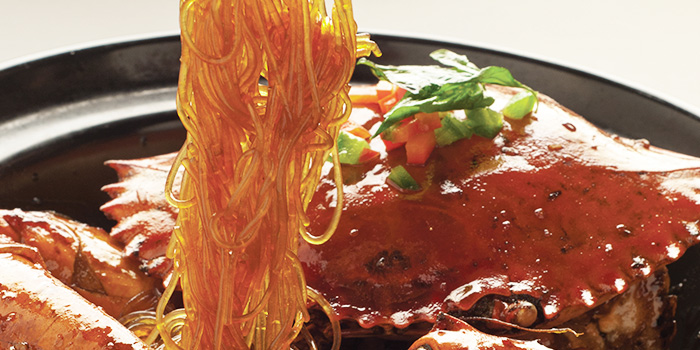 As complex as Peking London Duck may sound – London duck from Ireland's Silver Hill Farm served in traditional Peking style – there's nothing complicated about our feelings for this delicacy from TungLok XiHe. Specially bred and aged to produce dense and porous skin along with tender flesh, the duck is cured with a secret mix of spices and filled with a special marinade before hung to roast in a traditional oven.
The end result? Sheer perfection. We could spend forever tucking into endless wraps of juicy duck breast or creating our very own delectable bundles of joy using steaming slivers of duck thigh and a slew of incredible condiments. Our real favourite, however, is the skin and TungLok's version delivers both creativity and classic flavours. Crispy skin is highlighted with a unique blueberry sauce and Popping Rocks dip, bringing true meaning to the jingle: once you pop you just can't stop. If you can tear yourself away from the duck party in your mouth, the rest of the menu is nothing to sneeze at either. There's Wok-Fried Crab with Homemade Spicy Sauce, Mrs Zhang's Braised Lion's Head Meatball, Hot and Sour Soup with Fresh Shrimp, and more Chinese delicacies that score full marks. All their effort paid off in spades, we say!
$25.00 $50.00
20. Danro (Bugis Junction)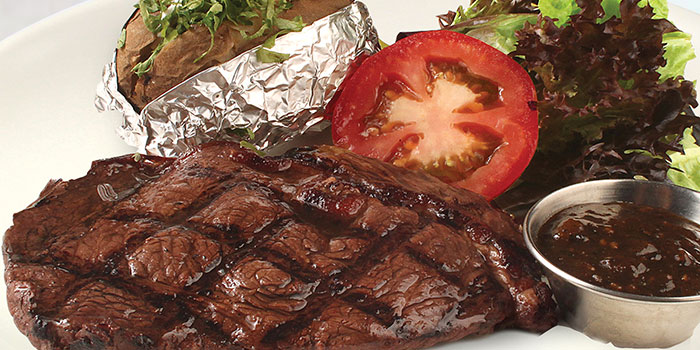 DANRO specialises in Japanese hot pots for you and your family. You can choose from 4 soup base (Chicken Paitan, Wafu, Sukiyaki and Spicy Jiggae) and select the type of hotpot you would like to enjoy.
The kitchen also dishes out modern and classic all-time favorites like their crispy Italian thin-crust pizzas, delicious made to order pastas and mouth-watering selection of American flame-grilled beef, grilled chicken, lamb rack and pork ribs to satisfy your every appetite. Our wide offerings include signature hot stone rice, Toji dishes and many more. There is also a delicious range of authentic Japanese Desserts and tantalizing Western Desserts to satisfy your taste buds.
Come on down to DANRO as we pledge to satisfy your every appetite at wallet-friendly prices! See you there!
$25.00 $50.00
21. Chope Gift Card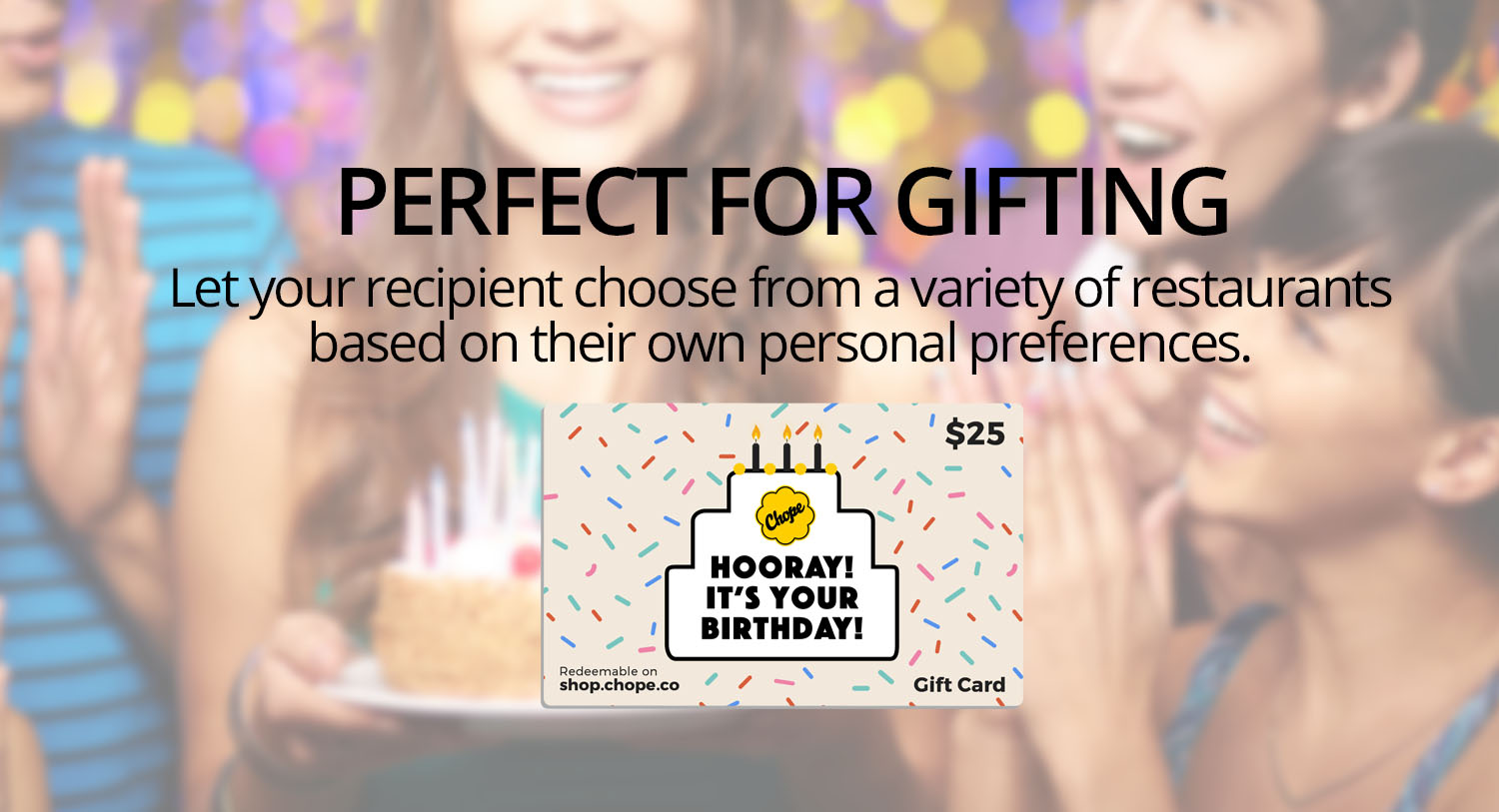 Chope Gift Cards are gift cards with a stored value that can be used to purchase restaurant vouchers on The Chope Shop.
By gifting Chope Gift Cards, your loved ones can choose to enjoy dining treats at a variety of popular cafes, fine-dining restaurants and hotel groups! Balance Gift Card value can be used for subsequent purchases till value is fully depleted or upon expiry of Gift Card.
The Gift Cards, which comes in both Electronic and Physical versions, are great for all occasions, and the perfect gift for clients, partners, staff and events!
$30.00 $50.00